This is a tale of horror and shame as a modern day woman with a vintage soul grapples with what too many responsibilities and not enough time means for her fridge. Fridge Cleaning for the Modern Day Woman will either leave you feeling better about your fridge, or ready to roll up your sleeves to face what you've been fearing.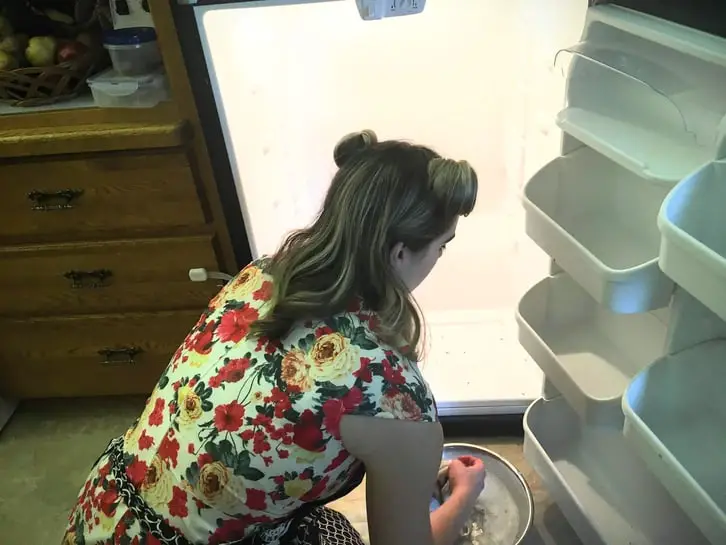 Fridge cleaning can be so much more pleasant than this!
The state of my fridge was downright embarrassing.
FRIDGE CLEANING BACK IN 1941
In 1941, a compendium on housekeeping was published by Charles Scribner's Sons in New York titled America's Housekeeping Book.
This is what it has to say about cleaning a refrigerator:
Do you see what I see?
On a weekly basis, remove everything from the fridge, clean inside the fridge, and put all the food back.
I don't know what Martha Stewart or anyone else has to say on this subject, but I was floored when I read this.
It makes a lot of sense, doesn't it? Who does this though? Do you?
CLEANING OUT MY FRIDGE: A HORROR VIDEO
This video is either horror or comedy; I can't tell, but I went with horror. If you like my video, make sure to subscribe to my YouTube channel!
This post may contain affiliate links, meaning that if you choose to purchase something after clicking on one of the links in this post, I may earn a small commission at no additional cost to you.
RELATED: Keep a Neat and Tidy Home with the FlyLady Plus App
THE VIRTUES OF CLEANING THE FRIDGE ON A WEEKLY BASIS
There's something to be said for cleaning the fridge out on a weekly basis.
I can see all of the benefits, clear as day. For one, it allows you to take an inventory of everything you have in your fridge, which, by the way, is one of my favourite frugal kitchen rules.
When you know what you have on hand, you can plan your meals around it. It minimizes waste, and you'll buy less at the supermarket.
It also guarantees that you won't find a container of mould that once used to be food, and you'll avoid finding a bag of goop in your crisper than once used to be lettuce.
THE REALITY OF THE MODERN WOMAN
While this all sounds great, that's not the reality for most of us, is it?
Who has time to clean their fridge out every week?
I always thought it was more of a seasonal duty and treated it as such.
Most women are juggling full-time careers while trying to raise their children, be good wives, feed everyone, and keep a clean home. That excludes any extracurricular activities the family participates in, leisure activities, and self-care. Isn't that insane?
One woman, four major responsibilities: work, children, being a wife, and homemaking.
No wonder women are nearly twice as likely to be diagnosed with anxiety than men! Also, I'm pretty sure fridges in 1941 weren't as full as ours.
A CONFESSION
I moved into my house in December of 2018.
My son was six months old at the time and it took me a solid month to unpack everything. Come April, I started working from home part-time while staying at home with my son, which was more than a full-time job.
In May 2019, Vintage Kitchen Vixen was born and I split myself up again, voluntarily juggling yet another responsibility.
The housekeeping I'd been spending time on every day during my maternity leave began to fall away.
I started spot cleaning my floors instead of mopping them. The baseboards grew dusty. Baby smudges on the windows and mirrors became commonplace.
As for the fridge? Disgraceful.
When I started work full-time in September, all hope for cleaning the fridge ever again was lost.
I mean, I could have hired someone to clean my house for me, but I'm way too frugal for that. Why hire someone to do something I'm fully capable of doing? It makes no sense to me. If I knew how to change the oil in my car, I would do it myself, too!
BIG PAPA TO THE RESCUE
While planning out the November posts in October, Big Papa suggested that I do a post on cleaning out the fridge. By that time, the fridge had not been properly cleaned out since moving into our home in December (remember how I convinced myself that fridge cleaning is a quarterly duty?) and it was a fright!
Two or three times throughout the year, Big Papa did a quick purge, throwing out the vile suspects contributing to fridge stench, but that was it. Maybe one of the shelves got a hasty wipe after a leak or a spill, but that's just about it.
The worse it got, the more I put off cleaning the fridge. Did I feel guilt and shame? Absolutely. I'm not alone in this, am I?
Surely you've suffered from filthy fridge guilt, too?
So when Papa suggested we film me cleaning out the fridge, I was all in. Combining two of my jobs? Brilliant.
FRIDGE CLEANING STEPS
These are the steps I follow when cleaning out my fridge:
Remove all contents from the fridge. I like putting everything in dishpans.
Pull out the removable shelves and drawers and wash them in hot, soapy water.
Spray the fridge with your cleaner of choice (I use a natural homemade cleaner that's a blend of water, white vinegar, and anti-bacterial essential oils) and wipe clean with warm, soapy water.
Dry and replace the removable shelves and drawers.
Wipe down the jars and containers, examining the expiry dates. Return the good items to the fridge, organizing as you see fit.
Vow to keep the fridge clean from now on.
DO YOU WANT TO KNOW WHAT GOT PURGED?
My shame is already on display for the world to see, so I might as well dish out the dirty details. One of my favourite mottos is "waste not, want not", so this makes it extra hard to share the expired contents of my fridge. Are you ready?
Mouldy black parsnips (I was going to make a parsnip cake with them, I swear!)
Slimy carrots
Wilted, brown "green" onions
Dry, old hummus and garlic sauce from shawarma leftovers
Pickle spears cut for my German beef rouladen post that were likely contaminated
Mystery mouldy Tupperware
3-year-old teeth whitening system that was never used and, therefore, likely expired
Tube of tomato paste opened at least 18 months ago
Mouldy herbs
Sad kale salad leftovers
Expired beet salad leftovers
Mouldy lemons
Past-their-prime blueberries
Mystery yogurt containers that did not contain yogurt (this is why labels are so important!!)
Aged vinaigrette
Ancient lime and pepper cocktail syrup
MY NATURAL FRIDGE CLEANER
When I'm cleaning the fridge, I rely on dish soap, warm water, and my natural vinegar cleaner. The chemical sprays you buy in-store that destroy 99.9% of bacteria, also kill your good bacteria, affecting your healthy microbes.
While they're certainly more effective than natural cleaners at killing bacterial pathogens, the use of these powerful disinfectant sprays pollutes the air in your living space and can make bacteria stronger.
If you're new to the world of making your own natural cleaners, here's an easy all-purpose spray that you can make:
Fill a glass spray bottle halfway with white vinegar and the other half with water. Add 15 drops of tea tree oil and 15 drops of lemon essential oil. Done!
Related: 5 natural cleaning ingredients you don't want to be without
CLOSING REFLECTIONS
At the time of publishing this post, it's been three weeks since the great fridge cleaning purge of 2019.
When I was putting groceries away today, I noticed a sad head of lettuce that had a salad in its future, a desperate bag of baby bok choy, and a couple of perishing green peppers.
I left the lettuce in the crisper, vowing to salvage what's left; I have plans to make a ginger garlic noodle soup with the bok choy, and one of the green peppers went into the compost. I need chickens: they would love the lettuce.
The fridge will not get the best of me this time, though.
After witnessing the produce creeping up on me, I realized I need to be more vigilant. I don't want to waste food, honestly! It's the exact same thing as throwing away money.
Maybe I'll take up a bi-weekly schedule.
Maybe I'll finally see what Martha has to say on the subject.
But what about you? How often do you clean your fridge? Does your fridge frighten you, too, at times, or am I the only one?
I hope you'll let me know in the comments below!
SHOP THIS POST
1941 edition of America's Housekeeping Book
PIN IT FOR LATER
Love and gratitude,