Cheese fondue parties are as hygge as it gets. Master this delicious communal meal with these  simple tips and tricks to throw a stellar fondue party and to make a store bought bag of fondue taste incredible. 
WHAT'S CHEESE FONDUE?
Cheese fondue is up there on my list of things I love.
Fondue is a French word that translates to "melted", so a cheese fondue is a cheese that's melted.
A pot of it.
It's the perfect meal to gather your favourite people around the table to dip various food items into the melty, cheesy goodness.
Like raclette and hot pot, it's an intimate communal meal that's special and unique. Knowing that, is it any surprise that fondue parties were all the rage in the '60s and '70s?
By the way, cheese fondue is just one type of fondue. There's also meat fondue and chocolate fondue, but we'll talk about those another day.
Also, this post may contain affiliate links, meaning that if you choose to purchase something after clicking on one of the links in this post, I may earn a small commission at no additional cost to you.
If you need more hygge in your life, you'll want to host a fondue party! And in case you missed the hygge train, it's a Danish mindset about creating cozy comfort. If you want to learn more about it, Meik Wiking wrote a book about hygge in 2017.
A CHEESE FONDUE VIDEO
If this is your first time visiting the Kitchen, you're about to find out why I call my kitchen vintage… If you like my style, please consider subscribing to the Vintage Kitchen Vixen YouTube channel!
Related: Hosting a raclette party
Related: How to host an oyster party
WHAT DO I NEED TO HOST A FONDUE PARTY?
As far as I'm concerned, as long as there's a pot of fondue on the table, there's a party, even if it's a raging party of one.
Here are several things you will need for a successful evening of fondue:
Enough fondue forks (most sets come with six)
Fondue fuel (assuming you don't have an electric fondue set)
Cheese
Things to dip into the cheese (we will cover this, so keep reading!)
A bottle of dry white wine
PREPARING FOR FONDUE NIGHT
If you're making an evening of fondue, it might not be a bad idea to do some prep work in advance.
Figure out what you want to serve with the fondue. Is there any prep work you can take care of in advance that will help make the evening run more smoothly, like boiling and dicing potatoes?
Is cheese fondue the only thing you're going to eat, or is it just an appetizer?
Depending on how many people you're gathering, will one fondue set be enough, or will you need multiple pots?
Also, do you have fondue fuel on hand? If not, pick some up. You won't want to be without it!
WHAT KIND OF POT SHOULD I USE FOR CHEESE FONDUE?
I know these days there are electric fondue pots keeping cheese melty for everyone to enjoy, but I'm old-fashioned and prefer having a flame to keep my eye on.
I personally have two fondue pots at home. One is stainless steel and is a real pain to scrub clean. The other is ceramic and is a dream to work with.
Both of my fondue sets are vintage, but my ceramic pot cleans so easily compared to the stainless steel.
The thing is, no matter how much you stir, you're going to wind up with some cheese crust at the bottom of the pot!
Fondue pots can usually be nabbed on the cheap at yard sales and thrift stores, but here are a few super cute ones I found on Amazon that might be up your alley:
This gorgeous black ceramic pot with gold illustrations
An adorable white ceramic pot with black silhouettes showcasing a pastoral Heidi scene.
This wintry cabin set is all kinds of adorable.
A sturdy, enamelled, traditional cast iron fondue pot that will last you a lifetime.
HOW DO I MAKE STORE BOUGHT FONDUE CHEESE TASTE AMAZING?
I am a strong advocate for mixing your own blends of fondue cheese, but I'll admit, it's a lot more economical to buy boxed fondue.
While store-bought fondue packages are ready-to-go and only need to be melted, their flavour can be greatly improved with a few simple ingredients.
And it's not that they don't taste good already, it's that they can taste better.
PREPARING THE FONDUE POT
The first thing you will want to do is take a clove of garlic, cleave it in half, and smear it all over the pot until your garlic clove is too worn to continue.
CHOOSING AN ALCOHOL
This step is optional because not everyone appreciates alcohol in their food. Mind you, the alcohol is cooked out of the fondue during its simmer, but sometimes it's better to leave it out. If this is the boat you're in, I recommend squeezing in a bit of lemon juice or measuring out a wee bit of apple cider vinegar instead.
My favourite pots of cheese fondue include a generous splash of white wine, but other options you may want to consider are kirsch, beer, whisky and brandy. Let the experiments begin!
FLAVOURING THE CHEESE FONDUE
I'm not talking about going wild with flavours here. I'm talking about adding a couple of enhancers that will knock your socks off.
For me, grinding in some fresh black pepper takes fondue to the next level, as does a wee bit of Dijon mustard.
They're subtle but impactful.
I've also been known to sneak in a bit of goat cheese into the mix. Once this is done, the cheese is added and stirred until melted!
WHAT DO I SERVE WITH CHEESE FONDUE?
These are your dippables, that is, the things you will be dipping into your cheese fondue.
I say go crazy, but try to avoid raw meats and anything that might contaminate the pot of cheese that everyone's sharing.
Here are some ideas to get you started:
Cubed bread (I love using baguettes or a good sourdough for this)
Cured meats (like this homemade duck prosciutto)
Cooked sausage coins
Boiled potatoes, either diced or mini
Olives
Steamed broccoli or cauliflower florets
Cherry tomatoes
Apple and pear slices
Pickles
Pretzels
Meatballs
Filet mignon
Cocktail onions
If you want to be outrageous, you can also dip cubes of cheese or potato chips into the cheese. This is something I don't do, but Big Papa, my husband, isn't a stranger to it.
WHAT SHOULD I DRINK WITH CHEESE FONDUE?
Traditionally, the Swiss insisted that there were only three suitable pairing options: a dry white wine, kirsch, or herbal tea.
I only drink white wine when I'm doing fondue, but it really depends on what goes into the cheese. If you're mixing the cheese with cider, you might want to serve that, and the same thing goes with beer.
Caution: also traditionally, the Swiss insisted that anything apart from the suitable pairings (white wine, kirsch and herbal tea) would turn all of that delicious cheese into a hard ball in the pit of your stomach. I can't attest to that, but I'm sure you'll be fine if you want to drink a beer.
HOW MANY PACKAGES OF FONDUE CHEESE SHOULD I USE?
Sometimes Big Papa and I have a fondue party for two. We make a meal out of it, so one package of fondue will leave us feeling happy and content.
As a rule of thumb, use one package of fondue per pair of hungry mouths.
OCCASIONS FOR FONDUE
I mentioned at the very beginning of this post that fondue is hygge. It calls for an intimate gathering and it will make everyone feel warm and fuzzy with that dancing flame heating the pot and all the delicious food and wine everyone consumes.
Big Papa and I often have cheese fondue because we feel like it, a just-because-it's-Tuesday-and-we-want-to-feel-cozy kind of thing. I find that we lean more in this direction when the days are colder and shorter.
That being said, cheese fondue is perfect for…
Birthdays
Christmas
New Year's Eve
Valentine's Day
Bank holidays
Anytime you want to feel cozy
When you're due to invite friends over for dinner
DO YOU HAVE ANY FON-DO'S AND FON-DON'TS?
I apologize for the terrible pun. Big Papa insisted. In any case, is there anything I missed? Do you have any best practices or words of caution to add?
If you feel so inclined, I would love to hear about your own experiences with cheese fondue in the comments below!
RECIPE FOR A FANTASTIC CHEESE FONDUE
1 package of store bought cheese fondue
1 garlic clove, halved
generous splash of white wine (1/4-1/2 cup will do the trick)
1/4 tsp Dijon mustard
fresh ground pepper, to taste
INSTRUCTIONS FOR A FANTASTIC CHEESE FONDUE
Thoroughly rub the fondue pot with both halves of the garlic clove.
Splash in the white wine and heat over medium.
When the wine starts steaming, add the mustard and grind in fresh ground pepper to taste.
Squeeze in the bag of fondue cheese and stir until combined.
Stir until the fondue cheese is melted and ready to be transferred to the burner.
PRINTABLE CHEESE FONDUE RECIPE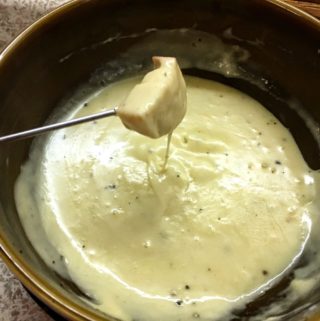 Improving Store Bought Cheese Fondue
Improving store bought cheese fondue is one of the best things you can do when hosting a fondue party. It doesn't take a whole lot of additional effort, so learn what you can do to take your cheese fondue game to the next level.
Ingredients  
1

package of store bought cheese fondue

1

garlic clove

halved*

Generous splash of white wine

1/4-1/2 cup will do the trick

1/4

tsp

Dijon mustard

Fresh ground pepper

to taste
Instructions 
Thoroughly rub the fondue pot with both halves of the garlic clove.

Splash in the white wine and heat over medium.

When the wine starts steaming, add the mustard and grind in fresh ground pepper to taste.

Squeeze in the bag of fondue cheese and stir until combined.

Stir until the fondue cheese is melted and ready to be transferred to the burner.
Video
Notes
* If you're doubling this recipe, you won't need additional cloves, unless you're using more than one fondue pot. 
One package of cheese fondue is usually enough for two people, assuming it's the whole meal. 
PIN IT FOR LATER
Love and gratitude,