Learning how to sear a duck breast is a kitchen skill every meat eater should master. Today we're diving into how to cook a juicy medium-rare duck breast to top an arugula salad with a zesty French vinaigrette.  Delicious!

WHY SHOULD I EAT DUCK?
If you're a meat-eater, learning how to serve up a juicy medium-rare duck breast is a kitchen skill you will want to have in your arsenal.
Although duck is lumped under the poultry category, it is red meat and it is absolutely delicious.
Did you know that duck is healthy, too?
While duck skin is fatty, duck fat is rich in vitamin K, which is something we should all be striving for in our diets.
Overall, duck is a flavourful nutrient-dense protein that should be way more popular than it is.
SEARED DUCK BREAST & ARUGULA SALAD VIDEO TUTORIAL
Thank goodness my recipe videos are done in the style of a silent film! My smoke alarm went off twice in the making of this video tutorial. Oops! If you're new to the Kitchen and want to see more videos like this, be sure to subscribe to my YouTube channel!
This post may contain affiliate links, meaning that if you choose to purchase something after clicking on one of the links in this post, I may earn a small commission at no additional cost to you.
MAKING SEARED DUCK BREAST
There's not much to making a seared duck breast.
The hardest part might be sourcing the duck, but any respectable butcher will be able to point you in the right direction if they don't carry duck themselves.
Once you have your duck breast, the first thing you will want to do is preheat the oven to 400ºF/200ºC.
Next, score the duck skin, giving it a cross-hatch pattern, like this:
Scoring the duck will help the fat render better and leave you with a crispier skin.
Season both sides of the breast with salt and pepper, then pull out your skillet.
START OFF WITH A COLD PAN
I am a cast-iron skillet enthusiast and believe everyone should own one.
Cast iron not only conducts heat well, but it's also oven-safe, helps boost your iron intake, and lasts forever if you take care of it properly.
It's also not coated with nasty PFAs, like the majority of non-stick pans.
Okay, that's enough of me expounding the virtues of cooking with cast iron.
Anyhow, use whatever pan you fancy for cooking the duck breast, but please make sure it's oven-safe. The last thing you want to deal with is a melted plastic handle!
Since the duck skin is quite fatty, the pan doesn't require oil.
Place the duck breast skin-side down on the pan and heat it over medium-high heat.
Hopefully, you don't have a possessed stovetop as I do.
My main element does whatever it pleases and regularly smokes out my kitchen over medium heat. Not cool.
RENDERING DUCK FAT
Duck fat is one of the best cooking fats for frying potatoes, and lucky for you, you will end up with a small amount after this recipe. Save it and use it later!
As the duck heats up in the pan, you will notice a pool of melted fat being released.
When this starts happening, leave the breast alone for a couple of minutes to sizzle in its own fat, then flip it over on the other side for a quick sear.
The duck will be cooking skin-side down for 90% of the time, so I really do mean a quick sear.
In a minute, you'll be flipping the duck breast over again and transferring it to the oven for 6-8 minutes.
WHAT IF I DON'T HAVE AN OVEN-SAFE PAN?
If you don't own an oven-safe pan, there's a way around this.
While the duck breast is searing in the pan, heat a baking sheet in the oven.
Once the duck breast is seared on both sides, transfer it to the sheet.
That's it!
Okay, now back to the duck.
TEST THE SEARED DUCK BREAST
When the timer goes off, it's time to pull the duck from the oven and test it for doneness.
My favourite way to do this is to poke the fleshiest part.
It should have a good amount of squishy bounce with a bit of resistance.
Actually, if you poke the fleshy part of your hand where your thumb connects it will feel similar.
If the duck feels too squishy, pop it back in the oven for another couple of minutes.
If you're not comfortable with testing for doneness by poking, use a meat thermometer.
A perfect medium-rare duck breast will be 135ºF/57ºC.
In my not-so-humble opinion, this is the way duck breast should be served, but if you're a well-done kind of person, you're looking for 170ºF/77ºC.
REST THE SEARED DUCK BREAST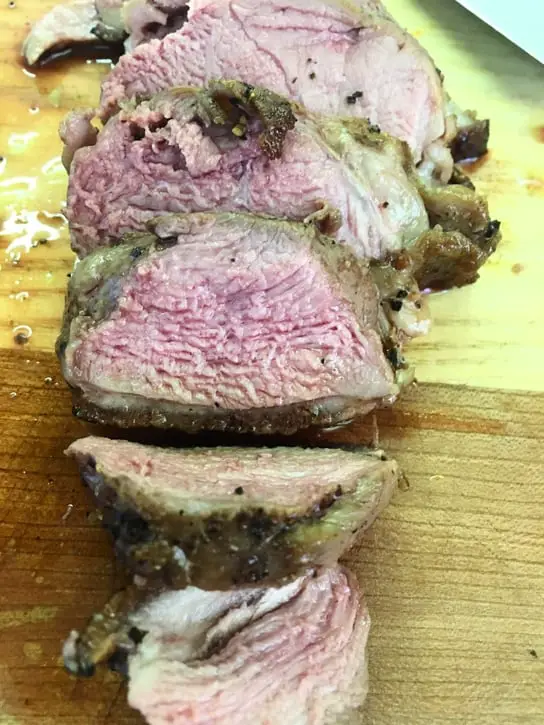 When the seared duck breast is out of the oven, give it a rest. This will ensure a wonderfully juicy duck breast.
As with other meats, if you slice into it too soon, it will lose most of its juices.
Duck juice is full of flavour, so resting is key! Though it may be hard, leave it alone for five minutes before proceeding.
When enough time has passed, slice it on the diagonal, divide the meat and arrange it on top of the salads.
One thing to keep in mind is that thicker slices will retain their heat longer.
If there's a bit of juice after cutting the duck, don't let it go to waste.
Drizzle it on top of the duck!
HAVE FUN WITH THE SALAD
The purpose of this post is to teach you how to prepare a succulent piece of duck meat.
My favourite way to enjoy duck breast is sliced over a salad, which is where the salad bit comes in.
Arugula is an excellent duck pairing, but you can use whatever you'd like. Here are some fun salad options to consider when making your own:
Granny Smith apples
Blueberries or raspberries
Shredded carrots
Celery
Cheese (ex. Asiago, Parmesan, or Pecorino)
Cilantro
Cucumbers
Mushrooms
Onions, scallions, or chives
Peaches
Tomatoes
For a full list of ingredients that go well with duck, I highly recommend The Flavour Bible by Karen Page and Andrew Dornenburg. It's one of my favourite kitchen books and one that I keep recommending over and over again because it's that good.
Anyhow, as far as the salad goes, I like making the vinaigrette while the duck is in the oven, and I plate everything when the duck is resting. There's really not much to it!
THANK YOU FOR POPPING BY THE KITCHEN!
If this is your first time making a salad with seared duck breast, you're in for a treat.
As far as I'm concerned, you can never go wrong with adding a flavour-packed protein to a salad, like this pan-fried chicken caesar salad.
I hope you love it as much as I do and that you'll share how it turns out in the comments below!
SHOP THIS POST
OTHER POSTS YOU MIGHT LIKE
Making Vinaigrettes from Scratch
SEARED DUCK BREAST & ARUGULA SALAD INGREDIENTS
SERVES 2
1 duck breast
2 handfuls of arugula
1/2 cucumber, sliced
2 tomatoes, sliced or diced
1 avocado, sliced
1 carrot, shredded
vinaigrette
salt and pepper
THE VINAIGRETTE:
1/2 shallot, minced
1oz red wine vinegar
3oz avocado oil
1 tsp honey
1 tsp dijon mustard
pinch of parsley
pinch of savoury
salt and pepper to taste
PRINTABLE SEARED DUCK BREAST & ARUGULA SALAD RECIPE CARD
Seared Duck Breast & Arugula Salad
Few things are as delectable as a perfectly seared duck breast that's pink on the inside and bursting with flavour. Learn how to sear the perfect duck breast for this zesty arugula salad with a homemade French vinaigrette.
Ingredients  
1

duck breast

2

handfuls of arugula

1/2

cucumber

sliced

2

tomatoes

sliced or diced

1

avocado

sliced

1

carrot

shredded

vinaigrette

salt and pepper
THE VINAIGRETTE
1/2

shallot

minced

1

oz

red wine vinegar

3

oz

avocado oil

1

tsp

honey

1

tsp

dijon mustard

pinch

of parsley

pinch

of savoury

salt and pepper to taste
Instructions 
Preheat the oven to 400ºF/200ºC

Score the duck breast (skin-side only) and season both sides with salt and pepper

Add the duck breast skin-side down to an oven-safe skillet (DO NOT PRE-HEAT THE PAN), and heat it over medium-high heat.

When the fat begins to render, flip the duck breast and quickly sear the other side.

Turn the duck breast so that it's skin-side down again and pop it in the oven for 6-8 minutes.

While the duck is in the oven, add the vinaigrette ingredients into a jar

To test the duck for doneness, poke the centre with your finger. It should feel squishy, but springy, meaning it's pink on the inside. If you want to gauge this by temperature, duck is medium-rare at 135ºF/57ºC.

Once the duck is out of the oven, allow it to rest for 5 minutes before slicing. While the duck rests, assemble the arugula, tomatoes, cucumbers, carrot and avocado on plates.

Slice the duck on the diagonal. For best results, cut thick slices of duck so that it retains more heat.

Divide the duck between the plates, drizzle with vinaigrette and serve immediately.
PIN IT FOR LATER
Love and gratitude,