Cast-iron cooking is making a roaring comeback to kitchens everywhere. Learn how to season, cook, and care for cast iron cookware in this beginner's crash course.
WHY SHOULD I COOK WITH CAST IRON?
Cast iron cooking is by no means a new phenomenon. It's a centuries-old practice dating back to the 1700s. Vintage cast iron skillets await a new season of cookery while more and more people grow disenchanted with non-stick pans. Have you ever heard of perfluorooctanoic acid before? It belongs to a carcinogenic family of chemicals called PFAS (that stands for Per- and Polyfluoroalkyl substances), and it puts the non in non-stick pan. The FDA just published their findings on PFAS, which you can read here. I also enjoyed this article summing up the FDA's report.
COOKING WITH CAST IRON: A VIDEO
If this is your first time visiting the kitchen, you're about to find out why I call my kitchen vintage… If you like my style, please consider subscribing to the Vintage Kitchen Vixen YouTube channel!
This article may contain affiliate links, meaning that if you choose to purchase something after clicking on one of the links in this post, I may earn a small commission at no additional cost to you.
Anyhow, at high temperatures, non-stick pans can release toxic fumes, but they need to be ridiculously hot, like, hotter than your oven will go. Still, eventually, the coating gets scratched and that's no bueno. Teflon pans are not going to stand the test of time, I mean, have you ever seen a vintage non-stick pan in good condition? I haven't.
HOW DO I HEAT A CAST IRON SKILLET?
This is by far the most important rule when it comes to cast-iron cooking because if you don't heat the pan properly, you're not going to be happy with the outcome. Are you ready?
Always pre-heat your pan!
Never, and I mean never, put food in a cold cast-iron skillet or it's going to stick and make a mess. If you're making eggs or pancakes, the butter should sizzle when you add it to the pan. On the same token, heat the skillet gently. Medium heat is best.
One of my favourite things about cast iron cooking is the ease of transferring my skillet to the oven. When I make burgers, I usually pop them into the oven after the sear to finish cooking. Just remember to put on a pair of Ove Gloves before removing so you don't burn yourself!
CAST IRON COOKING IS PATIENCE
Once your skillet is properly heated, it's time to add your food. The foods that do best in cast iron cooking are those that either have fat or need fat to cook. That's why cast iron is great for searing meats or frying up eggs. Whether you're searing a steak or making pancakes, patience is the key.
When you're itching to take a peak, flip, or stir, STOP.
Give it a couple of minutes until you can't wait any longer. You need to give it long enough for the food to form a crust, if you disturb it before that caramelization happens, it will stick, and we don't want that, do we?
HOW DO I CLEAN A CAST IRON SKILLET?
Every so often, you'll need to wash your skillet. I personally don't wash mine after every use. I'll give it a once over with a cloth or paper towel, especially if all I made was eggs, and call it a day. I only wash it as needed.
There's a bit of a debate as to whether or not to use dish soap on cast iron. I'm in the group that avoids soap to protect my skillet's seasoning, but there are cast-iron soaps available that will help you preserve that seasoned surface of yours. Instead, I scrub my skillet in hot water with a stainless steel scrubber. Easy peasy.
Here are a couple of do's and don'ts.
Do take care in thoroughly drying your skillet after washing it. You may even want to pop it in a hot oven for a couple of minutes for good measure.
Don't skip out on drying your skillet, or it will rust!
Do wipe on a bit of coconut or avocado oil with a cloth or paper towel after drying it to maintain its seasoning.
HOW DO I SEASON A CAST IRON SKILLET?
Most skillets come pre-seasoned these days, but you should always check what the instructions say when you purchase a brand new pan for your kitchen. It's possible that you'll come across a used or vintage cast iron pan that you can't resist, or maybe you accidentally let yours rust. Fret not! Seasoning a cast iron skillet is a fairly simple procedure.
Preheat your oven to 400ºF.
Give the skillet a good washing and scrubbing, using soap.
Thoroughly dry the skillet.
Using a cloth or paper towel, cover every inch of the skillet (handle included) with avocado or coconut oil (both have a high smoke point). Make sure to pat down the skillet, as the pan should not be dripping in oil.
Place the skillet upside down in the preheated oven for an hour.
If the skillet doesn't have a glossy sheen, repeat!
WHAT CAN I MAKE IN A CAST IRON SKILLET?
The best foods to prepare in a cast-iron skillet are those that have fat (like bacon) or need fat. This makes cast iron the ideal choice for searing and cooking meats; sautéing vegetables; frying eggs (don't attempt scrambled eggs); making pancakes, and frying potatoes. It's also great for finishing naan bread and tortillas. You can use cast iron to make a deep-dish pizza, whip up desserts, and bake bread, like biscuits and cornbread.
IS THERE ANYTHING I SHOULDN'T MAKE IN MY CAST IRON SKILLET?
We just explored how cast iron does well with foods that need or have fat. If you want to steam vegetables, reach for a stainless steel pot and steam basket. If you want to make a stew, opt for stainless steel or an enamelled dutch oven. I adore Le Creuset dutch ovens for soups and stews, but they're sooo expensive! Also, if your dish is super citrusy or acidic, you might want to opt-out of using cast iron cookware.
DO ACIDIC FOODS REACT WITH CAST IRON?
In short, yes! If you're making balsamic glazed chicken or squeezing a lemon over your salmon, consider using another pan.
Acid reacts with cast iron, so it can leave your food with a metallic taste and even discolour it. You don't want gray food, do you?
There's the concern that it will strip that seasoned surface you work so hard to maintain.
That being said, I am guilty of cooking with citrus in cast iron. I have this incredible tequila lime chicken recipe that I use for quesadillas. The chicken is marinated in lime, but I drain the chicken before adding it to the hot pan. There's still a bit of lime juice that goes in with the chicken, but I've never had issues with this recipe.
IS IT SAFE TO USE A GLASS STOVETOP WHEN COOKING WITH CAST IRON?
One of my dreams is to have a beautiful gas stove that will let me eat hot food in the middle of a power outage. My reality for the last five years has involved a glass stovetop, which is what I'm presently working with in my kitchen.
There are questions raised about cast iron scratching the glass, or even shattering it, but I've swept those concerns under the rug and do my own thing. Thus far, my skillets haven't left a single scratch.
I know there are a lot of cast iron cooking enthusiasts who are in a similar situation and carry on despite these concerns. If you want to protect your stove, then one thing I will suggest is to avoid placing an ice-cold skillet on a hot element. I've never been in that situation, but just in case you are, you've been warned.
WHAT KIND OF UTENSILS ARE SAFE TO USE ON CAST IRON?
Let's just say that the utensils that should be bypassed are those made of plastic. Due to the nature of piping hot cast iron skillets, plastic should be avoided as the skillet won't think twice about melting and warping your kitchen assistant.
If I'm searing meat, I'll use metal tongs; if I'm making burgers, I'll use a metal spatula. Most times, however, I'm using my favourite silicone spatula which has been by my side for close to a decade.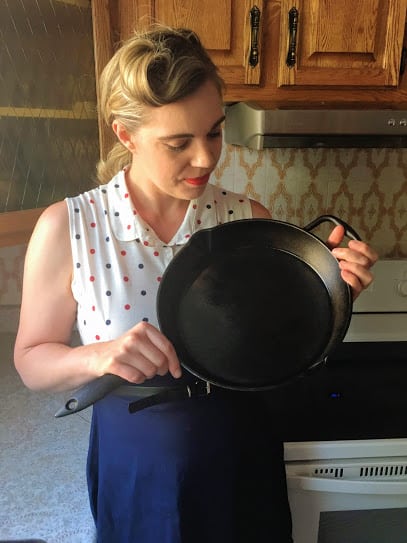 DOES CAST IRON TAKE ON ANY FLAVOURS?
It sure can! This is especially true when you cook something like fish. Bear in mind that cast iron has a porous texture, and since we only wash cast iron when it's needed, the flavours can blend with each other between scrubbings.
I personally don't mind when my eggs taste like bacon, but I do have a problem with my eggs tasting like fish, or my desserts tasting like eggs. There are a couple of workarounds for this:
1) Give the skillet a good cleaning before making flavour sensitive meals, or after cooking something fishy.
2) Acquire a second skillet that's reserved for baking.
Easy, right?
WHAT ABOUT YOU?
Where do you stand when it comes to cast iron cooking? Is this a whole new world for you, or have you dabbled in the past? If you're a seasoned cast iron vet, are there any important tips you'd like to add to the mix? Gather round the comment section and share your story!
SHOP THIS POST
CAST-IRON RECIPES YOU MIGHT LIKE
PIN IT!
Love and gratitude,