Fall bucket list ideas with a vintage twist to make your autumn days (and nights) cozy, bright and memorable.
Autumn is a gorgeous season. Don't let it go to waste!
Here are 27 vintage-inspired bucket list ideas for fall to help you make the most of this stunning season.
Whether it's heading outside to make the most of the cooler days, celebrating the holidays, or staying warm and cozy inside, there's something for everyone on this list of old-fashioned autumn activities!
Every article I write has a video to go with it. If you're having one of those days where you'd rather watch or listen to something, then give this a play while you wash up the dishes. For more videos like this one, check out my YouTube channel!
OLD-FASHIONED THINGS TO DO IN AUTUMN – A VIDEO
This post contains affiliate links. This means that some of the links you click on may put bread in my jar at no additional cost to you. My full disclosure can be found here if you want to put yourself to sleep.
RELATED: 15 Ways to Stay Warm and Cozy (the Hygge post)
RELATED: How to Create the Ultimate Bucket List with Your Saved Pins on Pinterest
1. PICK APPLES
Is there anything better than apple picking in the fall?
Probably, yes, but you have to admit that crunching into a freshly picked apple sounds pretty good.
Whether it's visiting an apple orchard, harvesting apples from the tree in your backyard, or helping a friend who has an apple tree of their own, there are plenty of opportunities to pick apples.
That being said, if you don't have time to visit an orchard, this is the time of year to hit up the farmers market and buy a large box.
Turn your apples into homemade apple sauce, brew cider, or make apple pie for days. And you know what they say…an apple a day keeps the doctor away!
2. WATCH A FOOTBALL GAME
The first college football game was played in 1869. Fifty-one years later, in 1920, the NFL was founded. The rest, as they say, is history.
I'm going to say it. I don't like football.
When the Superbowl comes around, I celebrate with everyone else because that means no more football until September.
While watching a football game on television isn't my cup of tea, I have to admit going to a game is fun. There's so much energy in those stadiums!
Even if you're not much of a sports fan, you can still put the game on in the background and multitask with #23.
3. GO ON A HAY RIDE
This is a fun fall activity whether you make a day of heading to the farm with your family or spend quality time with your besties.
Snap a photo or take a video to remember the thrill of being pulled on a hay-covered wagon by a muddy tractor.
4. GO FOR A WALK TO TAKE IN THE AUTUMN COLOURS
The autumn foliage is by far the best thing about autumn.
One day in late summer you notice the trees starting to blush green and then one morning you wake up and boom. The trees are on fire. But not actually.
Take the time to appreciate the blazing orange, red and gold leaves by hiking a nature trail or strolling through your favourite park.
While you're out and about taking in the colourful trees, you can collect a few leaves to…
5. PRESS AUTUMN LEAVES
While you're out enjoying the colours of fall, pick a few striking leaves to preserve the moment.
The Spruce will walk you through how to press leaves, but basically, pick pristine leaves with no bumps, blemishes, or curling.
You can preserve your prizes by pressing them in between the pages of a heavy book, ironing them sandwiched between wax paper, microwaving them dry, or drying them with glycerine or silica gel.
Frame your leaves and hang them up for a festive autumnal display.
6. FORAGE FOR MUSHROOMS
If you go walking in the forest, another thing you can do is forage for mushrooms.
However…
YOU NEED TO KNOW WHAT YOU'RE DOING!!!
The fact of the matter is, edible mushrooms have poisonous look-alikes, so you need to train yourself how to hunt for mushrooms safely.
Look for local groups on Facebook that can offer their experience in identifying the fungi you find.
Better yet, hire a guide who can help get you started on your journey!
I also recommend purchasing a field guide for your area to help you identify what you see.
Never, and I mean NEVER, eat a wild mushroom you can't identify with 100% certainty.
Also, respect the woods.
Pick mushrooms responsibly so they can grow back, and for the love of everything good, please don't litter.
RELATED: Why Everyone Should Learn How to Forage
7. PLANT BULBS FOR SPRING
Are you familiar with the children's author and illustrator Tasha Tudor? She lived through 1915-2008 but belonged to another century.
In her fascinating memoir, The Private Life of Tasha Tudor, she described how she spent every spare dollar on flower bulbs. She was OBSESSED with her flower garden.
What a lovely investment.
I love the idea of planting something that will put a smile on your face after a long and cold winter.
One of my favourite sights (and how I really know spring has sprung) is spotting a couple of lone crocuses pushing their way through my snow-patched flower bed.
According to Martha Stewart, the best bulbs to plant for spring include crocuses, tulips, Muscari (aka the grape hyacinth), hyacinths, allium and daffodils.
What will you plant?
8. PRESERVE SOMETHING
Have you ever preserved anything to flush out your pantry? Because this is the time of year to do it!
Farms, markets, grocery stores and home gardens are practically overflowing with good things to eat: beets and squash; beans and peppers; cabbages and tomatoes.
Do you have a neighbour with crab apples? Ask if you can pick through their tree and make a batch of crabapple jelly!
Whatever you do, take advantage of the abundance and the low prices to stash something away for a rainy day.
RELATED: How to Preserve the Summer Harvest
RELATED: Learn How to Make Sauerkraut in a Mason Jar
9. OBSERVE THE AUTUMN EQUINOX
This is the time of year to set your intentions for the season. And guess what? You are here making plans, so you're already off to a terrific start!
Carve out time to reflect on the summer and review your goals, if that's something you do.
And then go outside and be still. Light a bonfire. Gaze up at the moon and the stars.
Wonder at the heavens above.
Say a quiet thank you just for being alive in that moment.
10. HIT UP A PUMPKIN PATCH
Going pumpkin picking is a classic autumn activity and provides the perfect opportunity to go on that hayride from #3!
Depending on where you go, there might be hot drinks for sale, a petting zoo and a corn maze. Google what's available in your area and make a day of it!
It's usually a bit nippy outside by the time the pumpkin patches are open for business, so be sure to dress warmly.
Pick the prettiest (or the ugliest) pumpkin you can find for #18 and go home with a few sugar pumpkins so you can…
11. MAKE PUMPKIN PUREE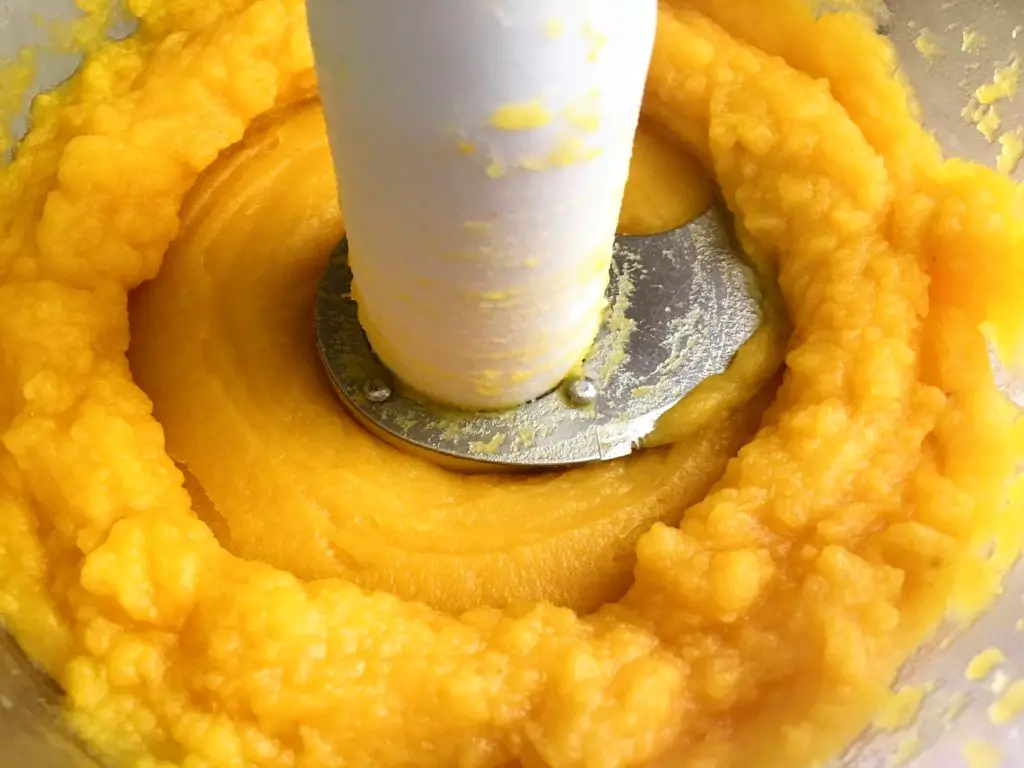 While it's much MUCH easier to just buy a can of pumpkin puree, it's not nearly as rewarding, is it?
If you've never made pumpkin puree from scratch, it's never too late to learn! Be sure to save the seeds and roast them for a healthy autumn snack.
Making a bunch of puree can totally count towards #8 (preserve something). Freeze it in freezer bags and use it throughout the months ahead for soups, sauces and baking.
Speaking of baking…
12. BAKE A PIE
Now that things are cooling down outside, it's no longer too hot to turn on the oven. That means the baking season is back!
Make yourself an easy batch of pie dough (or buy shells from the store) and bake your favourite seasonal pie.
Will it be an apple pie? Pumpkin? Pecan? Sweet potato?
RELATED: Pure Butter Pie Dough Recipe
RELATED: Sweet (and buttery) Pie Dough Recipe
13. MAKE A BIG POT OF SOUP
I don't know about you, but when cold weather sets in, I start craving soup.
If my husband liked having soup on the menu, I would make a big pot every week. I would make mulligatawny, potato leek and chicken noodle soup.
There would be tomato, beef barley, minestrone and cream of mushroom.
That's it. I'm going to make more soup this year. After all, soup freezes beautifully!
RELATED: Easiest Borscht Recipe Ever
RELATED: How to Host a Soup Swap Party
14. BAKE A LOAF OF BREAD
Is a bowl of soup even complete without a thick slice of buttered bread?
Bread baking is an incredibly rewarding experience, and that's mostly because you get to eat warm bread. Warm bread is cozy.
Unfortunately, for most households, weekly bread baking seems to be a thing of the past. It shouldn't be. Baking bread can be easy!
If you don't have time (or the desire) to knead dough and fuss over proofing, a basic bread maker will do all of the work for you.
Whether you want the full experience of baking bread (dough hands and all) or want to put a bread maker to work, my friend Katie at Heart's Content Farmhouse has yeasted and sourdough bread recipes for days. She'll take good care of you.
RELATED: How to Create and Care for a Sourdough Starter
15. DRINK HOT APPLE CIDER
Apple cider. It's refreshing over ice and comforting warmed up.
This is the time of year where cafes have apple cider on offer, but it tastes so much better when you pick up a jug of unpasteurized apple juice and mull it yourself!
Dump the lot into a slow cooker, or warm it up slowly in a saucepan, adding a cinnamon stick or two, several cloves, and a quick grating of nutmeg.
I don't like adding sugar to my cider, but if you want to sweeten it up, stir some brown sugar in there, or better yet, some Sucanat or coconut palm sugar.
Double bonus if you press your own juice!
16. VISIT A COUNTY FAIR
The county fair was a big deal in my hometown.
The schools would come together to compete in different events and people would submit their best pies and preserves to see if they'd win a blue ribbon.
There were farm animals to marvel at, a heated bingo tent to warm up in, and junk food galore. And if you liked fudge, there were all the flavours you could possibly dream up.
Unfortunately, county fairs aren't available to everyone. If there's one in your area, head on over there for a day of fun!
17. MAKE YOUR OWN HALLOWEEN COSTUME
When I was a kid, my mom couldn't afford to buy the Halloween costumes I wanted, so she sewed them herself!
The handmade costumes were so much better than the store-bought ones I dressed up in later down the line.
There's something to be said for originality!
Not everyone can sew, however, myself included, but there are so many ideas out there for homemade Halloween costumes that it shouldn't be too hard to throw something together.
Pinterest has a TON of ideas. Maybe you'll find one there!
18. CARVE A JACK O'LANTERN
In case you're unable to get your hands on a pumpkin, you can go way back into history and use a turnip or a potato as your canvas.
According to History.com, beets can also be used!
I think I'll stick with pumpkins.
Grab a pumpkin carving kit from the dollar store, or better yet, invest in a proper carving kit that will outlive a single-use, and get ready to carve!
As with Halloween costumes, Pinterest has a million ideas for jack o'lantern designs.
P.S. Remember to roast the seeds!
19. MAKE CANDY OR CARAMEL APPLES
Did you know that candy apples have been around since 1908?
They also used to be a popular treat to hand out to trick or treaters until folks got spooked by the idea of razor blades lurking within this confection.
I say make a batch for your family, friends, and neighbours!
Here's a recipe I found for a candy apple without corn syrup.
Caramel apples, on the other hand, were invented as a means to use up those little caramel candies leftover from Halloween.
Instead of melting down caramel candies, try making your own!
You can find healthy vegan versions of caramel apples, but I like my caramel to have cream. Here's the recipe I found if you want to give it a go!
20. GET SPOOKED IN A HAUNTED HOUSE
The first known haunted house attraction dates back to 1915. It was in the UK, which is one of THE places to go for a real ghost tour.
I guess people like getting scared?
If you don't like being frightened half to death, skip this one. I won't tell!
21. CURL UP WITH A GOOD BOOK
If you're like me, you buy books faster than you can read them and have endless stacks of books to read. For my fellow bibliophiles, this bucket list item isn't a hard one.
But if reading isn't something you make time for very often, perhaps now is the time.
Create a beautiful moment out of it. Light a candle, pour yourself a cup of tea and put on a cozy pair of reading socks.
Make an afternoon out of it. Bonus if it's raining!
Need book suggestions? Here are some spooky classics to consider:
The Strange Case of Dr. Jekyll and Mr. Hyde by Robert Louis Stevenson
The Selected Works of Edgar Allan Poe
22. WATCH A BLACK AND WHITE MOVIE
Anything with Bela Lugosi or Boris Karloff will do!
Stream a classic black and white horror flick like Dracula (1931), Frankenstein (1931), The Wolf Man (1941) or The Creature from the Black Lagoon 1954).
Or just watch Nosferatu. It's free on YouTube!
23. KNIT OR CROCHET SOMETHING
This is something I would totally do while a football game plays in the background.
It's also the perfect activity while doing #26.
Knitting and crocheting are vintage skills that are a productive way to pass the time.
Try crafting something warm for yourself (or a loved one) this winter.
A scarf is the perfect beginner's project. Another easy project to consider is knitting a farmhouse-style dishcloth or a chunky pillow cover.
If you're a seasoned knitter or crocheter, you're going to LOVE Le Petit Saint Crochet for new project ideas.
24. WORK ON A JIGSAW PUZZLE
Before television took over everyone's living room, working on a jigsaw puzzle was one way to keep entertained.
Puzzling isn't for everyone, so if you'd rather clean the cupboard underneath the kitchen sink than make a puzzle, organize a board game night instead.
For those of you who can sit still for hours on end piecing together a puzzle, it's time to roll out the puzzle mat!
If you're like me, you have a couple of unopened puzzles ready and waiting for you in your basement closet. If not, here's a cute 300-piece pumpkin scene puzzle and a 1000-piece featuring a rustic farmyard scene (with pumpkins, of course).
But if you are a puzzle enthusiast, then you'll know that Ravensburger puzzles are what's up. It's all about that unbeatable Softclick technology.
25. MAKE HOMEMADE CRANBERRY SAUCE FOR THANKSGIVING
I grew up with canned cranberry sauce. It was my job to open the can and scoop it out into a pretty dish. And it barely got touched.
Since cranberry sauce is one of those things you can make before the big day, there's no reason not to make your own! Besides, it's healthier and tastier.
My maple bourbon cranberry sauce recipe is always a huge hit around the holidays. Give it a try!
26. SIT IN FRONT OF A COZY FIRE
After all of the hustle and bustle that autumn brings, it's good to sit back in front of a blazing fire.
And it doesn't need to be indoors, either!
By now the mosquitoes are hopefully gone for the year, so try building a cheerful bonfire to light up the night.
If you don't have a real fireplace (or a fake one), put on the fireplace channel and sip on some hot apple cider.
It's a fast way to feel snug.
27. HOST A PARTY
Filling your home with merry laughter definitely belongs on a vintage bucket list for fall. There are so many opportunities to be had to gather your loved ones in your home.
Here are some party ideas, including the obvious ones:
CELEBRATE FALL THE VINTAGE WAY
Hopefully, you managed to get more than one idea from this vintage-inspired bucket list for fall.
If there's anything you would add, let me know in the comments below!
MORE FALL-RELATED ACTIVITIES TO CONSIDER
Baking Apple Turnovers with Puff Pastry
Warming Up with These Cold-Busting Drinks
Fermenting Carrots into Delicious Chilli Lemon-Flavoured Pickles
PIN THESE FALL BUCKET LIST IDEAS FOR LATER