This easy duck prosciutto recipe will leave you wondering why you haven't made this before now. Plus, there's something so satisfying about slicing up charcuterie  you cured yourself!
THE PERFECT CURING PROJECT FOR BEGINNERS
Before making this easy duck prosciutto recipe for the first time, I thought curing meat was a complicated process best left to the pros.
Michael Ruhlman and Brian Polcyn, the authors of Charcuterie: The Craft of Salting, Smoking and Curing, showed me I was wrong.
Their recipe, which is the one I'll be sharing with you today, calls for three simple ingredients: kosher salt, a duck breast, and white pepper.
Other than that, you'll need a non-reactive container (like glass), cheesecloth and kitchen string.
Oh, and a bit of time and a cool spot for curing.
You might not want to hear this, but you'll need a minimum of eight days from start to finish.
EASY DUCK PROSCIUTTO VIDEO
For a quick and easy tutorial, check out the video. If you're new to the Kitchen, you'll notice that I do a little something called "silent-film mode". Please consider subscribing to my YouTube channel if you like what you see!
This post may contain affiliate links, meaning that if you choose to purchase something after clicking on one of the links in this post, I may earn a small commission at no additional cost to you.
RELATED: Easy Beet Kvass (a natural hang-over cure)
RELATED: A Good Old-Fashioned Sauerkraut Recipe
WHY SHOULD I MAKE MY OWN DUCK PROSCIUTTO?
IT'S HEALTHIER
Cured meats are by no means a healthy food choice.
For one, they're loaded with sodium, but most commercial options also include a little something called sodium nitrate.
Also known as saltpetre, sodium nitrate is the food additive that gives these processed meats their pinkish or red hue and extends their shelf-life.
Not to be confused with sodium nitrite, saltpetre is linked to a slew of health problems, such as stomach cancer, Parkinson's, and Alzheimer's.
Its cousin, sodium nitrite, doesn't have the same bad reputation as sodium nitrate, but there's still some speculation that it may be carcinogenic.
In addition to giving processed meats their colour, both are valued for their contribution to food safety as they inhibit the growth of harmful microorganisms.
Personally, I make a point of keeping both out of my diet.
I don't eat a lot of processed meats, but for naturally cured meats, I'll make an exception.
IT'S SATISFYING
When I was a kid, I loved the Little House book series by Laura Ingalls Wilder. In the first book, Little House in the Big Woods, there's a passage that sums up one of my life goals:
The red peppers and the onions dangled overhead. The hams and the venison hung in their paper wrappings, and all the bunches of dried herbs, the spicy herbs for cooking and the bitter herbs for medicine, gave the place a dusty-spicy smell.
Having a single duck breast hanging in my basement's furnace room is a far cry from this scene, but it's a start.
If this doesn't sound like your flavour of satisfaction, then just imagine yourself saying this to a friend as you offer them your homemade duck prosciutto:
"Would you care for some duck prosciutto? I cured it myself."
IT'S AN ALTERNATIVE TO PORK
I know more than a few people who don't eat pork for religious reasons.
There used to be a time where I wanted nothing to do with pork (and I'm still on the fence, to be perfectly honest), so laying down some homemade duck prosciutto on a charcuterie board is an incredibly thoughtful gesture.
WHAT KIND OF DUCK DO I USE?
According to Ruhlman and Polcyn, magrets are the best choice for duck prosciutto.
I used to think that magret was a translation for duck breast in French, but it turns out I was a bit off.
While magret is a duck breast, it's an appellation for a breast that comes from a Moulard duck that's been raised for foie gras.
If you aren't able to get your hands on any, don't sweat it. I winded up using the breast from a Peking duck and my prosciutto turned out just fine.
DUCK PROSCIUTTO BEGINS WITH SALT
The first thing you will want to do is study your duck breast.
If the tender is still attached, split it. Otherwise, pat the breast dry.
Pour kosher salt at the bottom of your non-reactive container to cover it and nestle the duck breast in.
Without offering any explanation as to why Ruhlman and Polcyn instruct that the duck should be skin-side up.
If you watch the tutorial, you may notice that I flubbed this up, but again, my prosciutto turned out just fine, so I don't think it matters much.
What does matter is that the duck doesn't touch anything but salt.
Ensure that it's clear of the container's sides and any other duck breast if you're making more than one at a time.
Bury the duck with salt and cover the container before storing it in the fridge.
For the next 24-hours, the salt will work its magic, permeating the duck, sapping its moisture and fending off bad bacteria.
This is the beginning of a beautiful fermentation process.
RINSE IT AND PAT IT DRY
Twenty-four hours is my ideal for duck prosciutto, but if life gets in the way and you forget about the duck, it'll be fine the following day.
Just do yourself a favour and don't let the duck sit in salt for more than 48-hours, because you'll wind up with overly salty prosciutto.
When you're ready, rinse the duck with water, washing away the salt, then pat it dry with a paper towel.
You will notice that the duck is a much darker shade of red from when you started.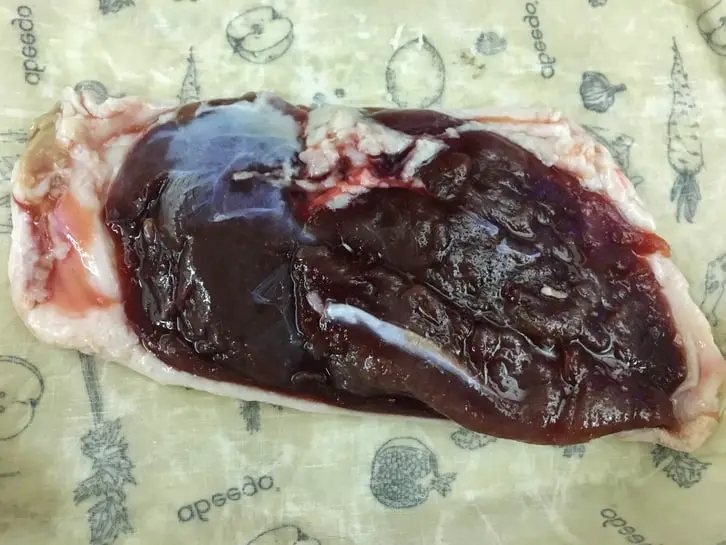 SEASONING THE DUCK PROSCIUTTO
You can really let your imagination fly with the seasoning, but for your first time, may I suggest keeping it simple with a dusting of pepper?
Ruhlman and Polcyn recommend fresh ground white pepper on both sides of the breast.
If you're feeling more adventurous, however, you can experiment with other flavours.
Juniper berries, bay leaves, a sprig of rosemary or thyme are all excellent options to consider.
WRAP IT AND HANG IT
Once the duck is seasoned, wrap it up in a length of cheesecloth and bind it up with kitchen string.
Hang it in a cool, humid spot.
The ideal temperature, according to Ruhlman and Polcyn is 50-60ºF/8-15ºC, but my basement, which is the coldest spot in my home, is a touch warmer than that.
Leave the duck to cure for a week.
If you're absentminded like I am, you might completely forget that you have duck prosciutto curing in the furnace room.
Mine cured for two weeks and guess what?
The duck prosciutto was fine!
If you have a good memory, however, and remember when a week has passed, test the duck by giving it a squeeze.
If it feels squishy in the centre, then it's still raw.
Letting it hang for another day or two will do the trick!
SLICING YOUR DUCK PROSCIUTTO
At last, the day has come and you're ready to slice into your meaty prize!
I don't think I need to tell you how to slice charcuterie, but I will advise slicing it on the bias, ensuring that every piece has a layer of fat on it.
I also recommend thin slices, which not only taste better than thick slices, but it will make your prosciutto go further.
SERVING THE DUCK PROSCIUTTO
For me, it's as easy as buttering up a few baguette coins and topping them with a slice or two of duck prosciutto, but maybe you want to get fancier than that.
Here are a few ideas:
Heap thin slices of duck prosciutto on a rustic cheese board with your favourite cheeses.
Assemble a charcuterie platter with a couple of other cured meats, house-pickled carrots, olives, and mustard.
Wrap duck prosciutto around juicy chunks of cantaloupe. If you're feeling extra fancy, drizzle the plate with a balsamic glaze for dipping purposes.
Fix a quick salad with arugula, lemon, and flakes of parmesan to serve as a simple appetizer.
THANK YOU FOR DROPPING BY THE KITCHEN!
I hope I've inspired you to give this easy recipe a go!
It's really quite simple, so if you do decide to experiment, I hope you'll come back and let me know how it turned out for you.
Will this be your first time curing your own meat? I do hope you'll let me know in the comments below!
Easy Duck Prosciutto
This easy duck prosciutto calls for only three ingredients and a week's worth of patience. It's worth it, though! Impress your family and friends by including thin slices of this simple nitrate-free home-cured meat on charcuterie boards, cheese plates, or on top of an arugula salad with lemon and parm. Delicious!
Equipment
Non-reactive container

Cheesecloth

Kitchen string
Ingredients  
1

duck breast

boneless

2

cups

kosher salt

1/2

tsp

white pepper
Instructions 
Pat the duck breast dry and cover the bottom of the pan in a layer of salt. Nestle in the duck breast skin-side up and bury it in salt. Ensure that the duck isn't touching anything other than salt.

Refrigerate covered for 24-hours*.

The next day, rinse the duck breast under cold water, washing off the salt. Pat dry.

Season both sides of the duck breast with white pepper.*

Wrap the duck in a length of cheesecloth and tie it up with kitchen string.

Hang the duck up to dry cure in a cool, humid place. A basement or cold room work beautifully for this, the ideal temperature being 50-60ºF/8-15ºC.

After a week, squeeze the middle of the duck to check for doneness. If it feels squishy (raw), let it hang for another day or two to firm up.

When ready to serve, thinly slice the prosciutto on the bias, ensuring that each piece comes with a layer of fat.
Notes
Do not let the duck breast sit in salt for more than 48-hours, as this will result in overly salty prosciutto. 
Consider experimenting with other seasonings such as rosemary, thyme, juniper berries and bay leaves. 
The longer the duck prosciutto cures for, the drier it gets. Refrigerating it slows down this process, but it will continue to develop in the fridge, getting drier and saltier over time. 
SHOP THIS POST
Charcuterie: The Craft of Salting, Smoking, and Curing by Michael Ruhlman & Brian Polcyn
OTHER POSTS YOU MIGHT LIKE
Building the Perfect Cheese Plate
Easy Chilli Lemon House-Pickled Carrots
How to Sear the Perfect Duck Breast
PIN IT FOR LATER