Cheese plates are a classic element at any French dinner table. Traditionally served after the meal, they're the perfect way to wind down. Learn how to build a simple cheese board that will have your guests diving in with gusto.
LIFE IS BETTER WITH CHEESE
I didn't grow up with cheese boards.
I was a small town girl, so there was nary a cheese shop in sight. All we had was what we got from the grocery store. The standard was processed cheese slices, havarti, and the occasional brick of Black Diamond.
The fanciest it got was a wheel of camembert and limburger cheese.
It's not that we weren't cheese people, we loved cheese, but we just didn't know anything about it. That changed when I met my husband's family.
Out of respect for their privacy, I won't say much about my in-laws, but when it comes to food and wine, they have exquisite taste.
The first real cheese board I encountered was at their table, which comes out every time I'm there for an evening meal.
Usually, a cheese plate counts as the dessert course, but having a terrible sweet tooth, if I was given the option between cheese and cake, I'd be reaching for the cake fork!
I'm so thankful that they don't make me choose between the two, because we have both… And so can you!
A VIDEO ABOUT MAKING A CHEESE PLATTER
If you want to drop out and tune in instead of read, here's the video! If you like what you see, make sure to subscribe to my YouTube channel!
This post may contain affiliate links, meaning that if you choose to purchase something after clicking on one of the links in this post, I may earn a small commission at no additional cost to you.
SOURCING CHEESE FOR A PARTY
Walking into a cheese store can be an exciting, yet overwhelming experience.
My all-time favourite cheese shop is a Montreal market fromagerie that practically overflows with cheese. Nothing comes close to it where I am, but there's this one Italian delicatessen that has a fine cheese counter.
Not everyone is as lucky as I am to have access to a cheese monger, but most grocery stores offer a decent selection. The question is, which ones to choose?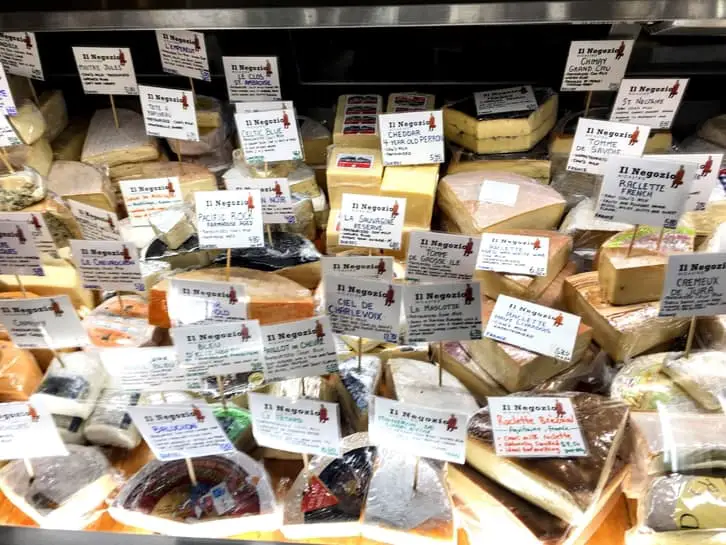 KEEPING CHEESE BOARDS SIMPLE
Well, my friend, when it comes to cheese boards, less is more.
Aim to have no more than 3 to 4 cheeses on your board. Since cheese is the main event in this course, you don't want to detract from any of your selections by going overboard.
When I'm putting together a cheese board, my general rule is a soft cheese, a hard cheese, and a blue.
I'm not going to lie and tell you that I know enough about cheese to tell you which cheeses complement each other, so if you do have access to a cheese monger, leverage their expertise by asking for recommendations.
MY FAVOURITE HARD CHEESES
Cheddar: you can never go wrong with a classic cheddar. For cheese boards, I like a good, sharp cheddar. Something that's aged.
Manchego: this is a Spanish cheese that's made with sheep's milk. It's a little bit piquant, buttery and crumbly all at the same time.
MY FAVOURITE SOFT CHEESES
Epoisses: at room temperature, this cow's milk cheese oozes everywhere. It's pungent, creamy and incredible paired with Sauternes, or, if you're a beer enthusiast, Trappist beer. Just as a warning, this cheese stinks!
Brie de Meaux: this is another stinky cheese, I'm afraid to say. They're worth it though, I swear! It's made from raw cow's milk and it's creamy, buttery, and reminds me of mushrooms.
Reblochon: a French cheese made with raw cow's milk, it's nutty and mildly fruity.
Nuage de Bourgogne: this is like eating a cloud. A French cheese made with cow's milk, it is ultra creamy and bursting with flavour. I served this on my wedding day and didn't get any because it's that good.
Can you tell where my heart lies when it comes to cheese? I love soft cheeses, and I could keep going, but let's take a look at…
MY FAVOURITE BLUE CHEESES
This is a joke, because I don't care for blue cheese all that much. I still put some on my plate every time it's in front of me because I hope I'll change my mind.
I tend to favour creamier blue cheeses, though. The most popular blue cheeses are roquefort, which is salty and smelly, and stilton, an English blue that goes great with port and pears. If I had to pick one, it would be gorgonzola, because it's mild and creamy.
HOW MUCH CHEESE SHOULD I PLAN ON FOR EACH PERSON?
If the cheese plate is a post-dinner course, plan on providing a third of a pound of cheese for each guest.
Maybe your cheese board is going to be the main event, though, in which case, buy more cheese. Cheese is one of those things I'm only too happy to have leftovers of.
A NOTE ON CHEESE BOARDS
When it comes to cheese boards, use something pretty.
Nothing will ruin the aesthetic of a cheese board faster than plastic.
Opt for a beautiful wooden board or a slate board. I personally use the latter and love that I can write on it. Here are a few funky boards I found on Amazon, but you know what? I bet you have a local artisan in your area who makes stunning boards.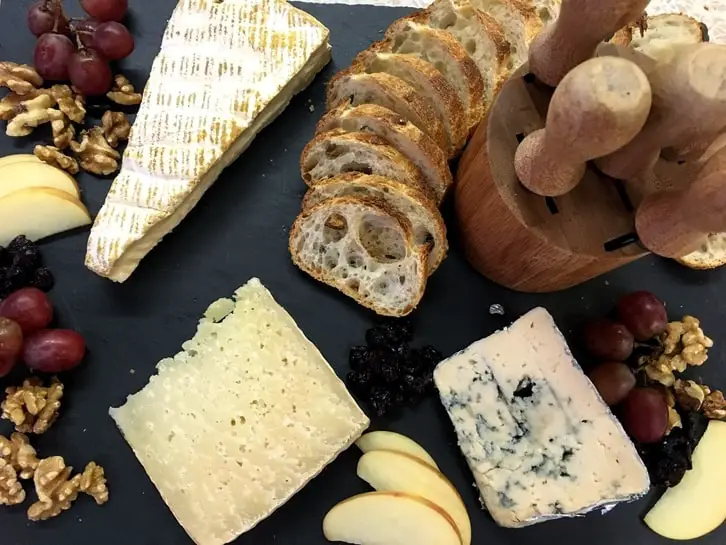 CHEESE KNIVES
In a pinch, a butter knife will work fine, but if you can, try to have a couple of cheese knives on your board.
These are communal knives that are left on the board. Here are a few sets I found on Amazon:
This basic bamboo set will be more than enough for your cheese board needs.
This unique set is made of Japanese stainless steel and has beautiful wooden handles.
This rose gold stainless steel set is gorgeous and looks luxe. The knives have marble handles and it comes with a marble stand.
CONSIDER LABELING YOUR CHEESE BOARDS
With only three or four cheeses on a board, it probably won't be hard to remember what you're serving, but if you need a little help, labeling is the answer.
One option is saving the stickers from your cheeses to show what they are.
Another way you can do it is to use little food flags as identifiers. If you don't care about being specific, these fork tine labels are adorable.
WHAT DO I SERVE WITH MY CHEESE BOARDS?
BREAD AND CRACKERS
The most important part of the cheese board–apart from the cheese– is the foundation.
What are you going to be putting the cheese on?
Bread?
A crusty baguette is my favourite thing to serve with my cheese boards, but if I can't get my hands on one (which is rare, because I live in Québec), my next-in-line is sourdough bread.
The one thing to keep in mind is to use a bread that will let the cheese shine. However, a good fruit and nut bread wouldn't be out of place, as its sweetness will counterbalance the salty cheese just beautifully.
I like crackers, too, but I'm very picky. I don't know if you're like me, but ingredient labels scare me away from most store bought crackers!
FRUIT
Having a couple of handfuls of fresh fruit on your cheese boards is always a good idea.
Fresh fruit serves as a palate cleanser, refreshing those taste buds of yours.
The best fruit to serve alongside cheeses include pears, grapes, cherries, and apple slices.
Dried fruit, like dates and cranberries, are also appropriate.
There's also this thing called quince paste that makes a delightful addition to any cheese board (especially if you have manchego on there), which leads me to…
JELLIES AND JAMS
I don't often have these on my cheese boards, but I always appreciate them when someone else is serving them with theirs.
Preserves are an easy way to spruce up a cheese board.
My all-time favourite is red pepper jelly, which I love scooping up on bites of cheddar and brie. Fig jam is another one that's particularly delicious, but I assure you, if you head to a farmers market, you will find a couple of local jam vendors who will be thrilled to help you find something to go with your cheeses.
NUTS
Unless there's a nut allergy, this is one thing that should definitely be on your cheese boards. Nuts pair especially well with cheese.
The best options are hazelnuts, walnuts and almonds. If you have candied nuts lying around, those wouldn't be out of place either.
I have to say though, The Flavour Bible by Karen Page and Andrew Dornenburg has several pages dedicated to cheese and what goes best with each kind. It's one of my favourite kitchen reference books, and it makes a terrific gift for culinary enthusiasts.
WHAT SHOULD I DRINK WITH CHEESE?
I almost always have red wine with my cheese, so it came as a surprise when I learned that white wines are the way to go. They're simpler than their red counterparts and are more refreshing to the palate.
When it comes to salty blues, like roquefort, something sweeter like a Sauternes is recommended. The same is true for port (which makes a stilton pop), because they pair well with dry and salty cheeses, so really, it depends on what you're serving and what your taste preferences are.
While wine and cheese go hand-in-hand, beer shouldn't be overlooked. The carbonation in beer cleanses the palate (which is why sparkling wine is another option to consider), so if you prefer beer over wine, here's a great pairing chart to help guide you along the way.
WHAT ABOUT YOU?
What do you like serving with your cheese boards? How have you done them in the past? Do you do anything differently? What's your favourite cheese? Do you feel the same way I do about blue cheese? I hope you'll let me know your thoughts in the comments below!
SHOP THIS POST
Rose gold and marble cheese knives
The Flavor Bible by Karen Page and Andrew Dornenburg
OTHER POSTS YOU MIGHT LIKE
The basic rules of table etiquette
PIN IT FOR LATER
Love and gratitude,