Cooking dried beans and lentils is one of those kitchen skills everyone should have under their belt. Learn all about the virtues of cooking dried beans and why it's so much healthier to use dried beans instead of canned.
WELCOME TO MY FRUGAL KITCHEN
In true vintage fashion, my kitchen is a frugal one.
I'm bursting with frugal kitchen tips, like making homemade broth from kitchen scraps and saving apple peels and cores to make apple cider vinegar.
Cooking dried beans instead of buying cans is yet another way I'm able to flex my frugal superpowers.
The cost-savings are considerable, especially when you purchase dried beans and lentils in bulk.
What's more, did you know that dried beans are healthier than canned beans, too?
HOW TO COOK DRIED LEGUMES: A VIDEO
Greetings! Welcome to the Kitchen. If you're having one of those days where you'd rather watch something instead of reading, here's the video! If you like what you see, be sure to subscribe to my YouTube channel!
This post may contain affiliate links, meaning that if you choose to purchase something after clicking on one of the links in this post, I may earn a small commission at no additional cost to you.
WHY IS COOKING DRIED BEANS HEALTHIER THAN USING CANNED BEANS?
There are three reasons why dried beans are healthier than using canned beans.
Let me walk you through them.
1. CONTROL THE SODIUM CONTENT
Most canned beans have a high sodium content because the beans are preserved in a brine.
Do you want to know what a high sodium content looks like?
To put in perspective, a cup of chickpeas cooked at home has less than 50mg of salt.
But a can?
Unless you select the sodium-free version with the higher price tag, you're looking at 500-1000mg+ of sodium per cup of cooked beans.
It's better to take control of how much salt goes into your food by cooking it from scratch.
2. REMOVE UNNECESSARY FOOD ADDITIVES FROM YOUR DIET
In addition to all that sodium, some brands toss in a bit of bonus calcium chloride to help keep the beans firm and colourful (commercial pickles get the same royal treatment).
This is not the kind of calcium you want to include in your diet.
To be fair, it's considered safe in the small amounts that are hidden away in our food, but it's an inorganic compound that's also found in laundry detergents, pool cleaners, deodorant, and in cement to help it dry faster.
No, thank you.
3. AVOID BISPHENOL-A (BPA)
Lastly, there's BPA to consider.
Unfortunately for us, BPA is everywhere.
It's found in toiletries, plastic food containers, feminine hygiene products, and electronics to name a few.
Do you know that inner lining in the can that helps protect it from corroding and possibly breaking? There's BPA in there.
What's the big deal, though?
While I don't want to point the finger at BPA and blame it for all of humankind's woes, I firmly believe it's a contributor to the following issues that are affecting an increasing amount of people:
Infertility
Impotence
Heart disease
Type-2 diabetes
Obesity
Negative effects on young children
I highly recommend this Healthline article if you want to learn more about BPA.
Again, I'm not laying all of the blame on this chemical because we are exposed to a whole lot of toxins. However, if we can avoid just one of those toxins by doing something small like cooking dried beans, it's like steering away from a pothole in the road.
With all that being said, beans belong in every pantry, but it's more than just having them on hand. You need to know how to cook them, too!
USING DRIED BEANS? PLAN AHEAD!
Now that we know why dried beans are superior to canned beans, it might give us more of an incentive to plan ahead.
If you're making chili, for example, you'll likely want to prep the beans in advance, especially if you're soaking them overnight.
If you're not soaking the beans, it will take a couple of hours to cook them on the stovetop.
Another thing you can do is cook beans on a day reserved for food prep. Prepare a couple of different types for the week and work them into your meals.
Try making a large bean salad for a quick and easy side for weekday lunches or toss beans into soups or wraps.
When beans are ready and waiting in the fridge, it takes the stress out of preparing the evening meal.
HOW TO COOK DRIED BEANS AND LENTILS
You don't need much to get started with cooking dried beans and lentils.
Equipment-wise, all you need is a large bowl, a colander and a pot.
A slow cooker will also suffice because all you have to do after soaking the beans is set it on low for six to eight hours.
Instant Pots make quick and easy work of cooking dried beans, too, but we'll be focusing on the stove-top method.
The first thing we will need to do is…
MEASURE AND PICK THE BEANS
While it's not completely accurate, it's theorized that one cup of dried beans yields three cups cooked.
When you have your beans measured out, dump them in a large bowl (or straight into the pot you'll be cooking them in) and sort through them, picking out any tiny pebbles or unsightly beans.
Then you will…
SOAK THE BEANS (or not)
I have always belonged to the boat of people who soak their beans.
It's something I learned from my mother, but at the same time, she used to like telling me a story about how three generations of women always cut their roasts into a square.
When the youngest asked her mother why she cut the roast this way, she learned it was because her grandmother did the same.
Curious, they called the grandmother and asked why this was done.
The answer?
It was the only way to fit the roast into her pan!
The biggest argument for soaking dried beans is to cut down on their cooking time.
Soaking might save ten minutes or forty-five depending on the type of bean.
Black beans, for example (and we'll get into them more), are one of the best candidates for skipping out on an overnight soak. Their flavour seeps into the water.
If you go the route of soaking the beans, however, the next thing you will want to do is…
COOK THE BEANS
The next day, dump the beans into a colander and give them a rinse.
Transfer them to a large pot and fill it with water so that they're covered.
Alternatively, you can also skip this step entirely and just cook them directly in the pot, in which case, soak them overnight in the pot.
The general ratio is 3:1 water to beans, but I never bother with an exact measurement.
If you're making a basic batch of beans, adding a bay leaf will boost the flavour profile.
Kombu, which is a type of seaweed, is another good option and helps to improve the digestibility of the beans.
Bring the pot of beans to a boil and turn it down to a simmer, partially covering the pot. To avoid having your beans turn to mush, remember to set a timer.
SALTING DRIED BEANS
Unless you're limiting your sodium intake, you will want to add salt at some point.
For years, even when I originally wrote this article, I believed it was a mistake to add salt at the beginning of the cooking process.
There's a big myth (which I helped to perpetuate) that premature salting results in tough beans.
It is said, that twenty minutes before the beans are done, you add the salt.
Samin Nosrat set me straight in her incredible book, Salt, Fat, Acid, Heat. It's my favourite culinary book of all time and two years later, still deserves its spot on my 2019 list of favourite kitchen reference books.
Salting too soon doesn't make beans tough.
Not cooking them long enough makes beans tough.
I usually measure by scooping a handful of coarse or kosher salt into the cupped palm of my hand and toss that in the pot so that my water tastes like the sea.
If you're not this bold, start out with a tablespoon of kosher salt or a teaspoon of fine sea salt. If it turns out the beans aren't salty enough for you, make a note and add more the next time.
I salt at the very beginning these days. I put my dried beans to soak in the pot I'm going to cook them and I add the salt right off the bat.
I don't even bother with rinsing.
And I also toss in a bit of…
BAKING SODA FOR DRIED BEANS
This is another tip I learned from Samin Nosrat. Seriously, her book is a gem. It's basically culinary school in a book.
These days I add a quarter teaspoon of baking soda to my pot of beans before they soak overnight. That way, they're stove-top ready first thing in the morning.
According to Nosrat, adding pinch of baking soda to a pot of beans alkalizes the water, making them more tender.
Who doesn't want a more tender bean?
BOIL, SIMMER AND STRAIN
Bring the beans to a boil and turn down to a simmer.
Not all beans are equal, so cooking times vary.
Below, I cover the cooking times for the most popular bean varieties.
Simmer the beans until they're tender.
Once you're happy with their firmness, strain them and allow them to cool before moving them to the fridge.
COOKING DRIED BEANS: THE POPULAR VARIETIES
If you're here to learn about cooking lentils, keep scrolling; you're getting close!
For now, I'll be going over seven different beans that are often found in a pantry.
The times listed are all based on overnight soaking.
If you're bypassing that step, tack on an extra 30-45 minutes to the cooking time.
BLACK BEANS: 1.5 HOURS
This is one variety of beans that does well without overnight soaking.
Black beans are a mainstay in Latin American and Caribbean cuisine.
Use them to fill burritos or make burgers, salads, soups and other tasty Mexican food like nachos, enchiladas and tacos.
You can even make gluten-free desserts with black beans!
BLACK-EYED PEAS: 1 HOUR
These cute cream-coloured beans with black "eyes" are popular in Southern, Caribbean and African cuisine.
They are often mixed with rice to make a hearty side dish.
Use them in stews, toss them into salads, or serve them up with bacon and ham.
CHICKPEAS (GARBANZO BEANS): 1.5 HOURS
Chickpeas see a whole lot of use in my kitchen.
They often get blended up to make hummus, or mashed up for falafel.
I love these beans in curries and enjoy seasoning and roasting them for healthy snacks.
Sneak them in wherever you can!
GREAT NORTHERN BEANS: 1.5 HOURS
Great northern beans are often mistaken for navy beans, which are their smaller counterpart. Both are white beans that can be used in just about everything.
I love using great northern beans in chilli, but they're also delicious whirled up into dips or spreads.
Use them in soups, stews and salads. You can't really go wrong!
KIDNEY BEANS: 1.5 HOURS
Shaped like little kidneys, these beans always have a place when I'm making a big batch of chipotle chili.
Stir them into curries, toss them in salads, mix them into pots of rice, or use them in soups.
They are super versatile and can be used for almost anything!
NAVY BEANS: 1 HOUR
These small white beans are often called upon to make large pots of baked beans.
Whenever I make chilli, I usually reach for these guys (or Great Northern beans) to pair alongside red kidney beans.
They are excellent in soups and stews, which is why they even have a soup named after them: navy bean soup!
PINTO BEANS: 1.5 HOURS
Pintos are the queen bean of Tex-Mex cuisine.
They are the number one choice for refried beans and taste great whole or pureed.
You can never go wrong with a crock-pot full of seasoned pinto beans simmering in broth, onion, bacon, tomato, and seasonings.
HOW TO COOK LENTILS
Lastly, we're going to take a quick peek at how to cook lentils.
There are so many different varieties, but my three favourites are brown, green and red.
Red lentils are not the best to serve whole as they tend to get mushy. They are perfect for veggie burgers and soups, but if you want something that's more intact, I recommend green or brown lentils. It's simple.
Rinse the lentils and cover them with cold water or broth.
If you're using water, I recommend adding a teaspoon of Better than Bouillon for a little bit of flavour. You can add salt at the very beginning, too, if desired.
Bring them to a boil and simmer them for 20 minutes.
Give them a test.
If they're still a bit tough, add 5 minutes to the timer.
Black lentils take a bit longer and take anywhere from 25-30 minutes.
When the lentils are cooked, strain and cool them. Done!
WHAT SHOULD I DO WITH MY LENTILS?
Lentils can be cooked directly in soups and stews, but when you're preparing them in advance, they make a beautiful, simple side dish.
Try tossing them in a vinaigrette to brighten them up or include them in a salad.
Use them in buddha bowls for a painless weeknight dinner that will help you clear out the pantry, or stir them into curries.
What do you like doing with lentils?
THANK YOU FOR DROPPING BY THE KITCHEN!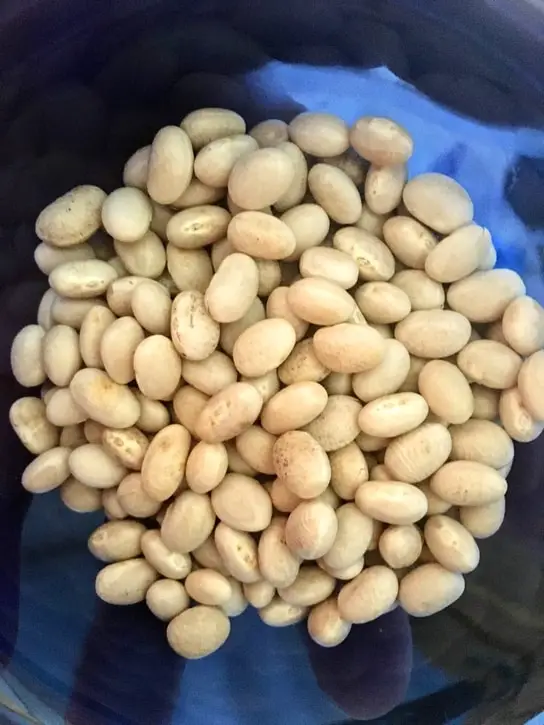 That's all there is to it! Cooking dried beans is such a simple, yet powerful skill to exercise in the kitchen. I'd say that it's even more important than knowing how to quarter a chicken.
How often do you prepare beans at home?
What are your favourite kinds to work into your meals?
Favourite bean dishes?
I hope you'll say hello and let me know in the comments below!
SHOP THIS POST
OTHER POSTS TO CHECK OUT
Easy Chipotle Slow Cooker Chili
Vegetarian Shepherd's Pie with Homemade Veggie Ground Round
PIN IT FOR LATER
Love and gratitude,