German Christmas treats like lebkuchen and marzipan
make excellent stocking stuffers. Served on a platter, they make it especially easy to surprise and delight guests with something special and sweet.
THE BEST GERMAN CHRISTMAS TREATS: A ROUNDUP
Growing up, Christmas was always a special affair.
Christmas is that time of year where my German heritage really shines with old world traditions being passed on down the generations.
From the decor to the festivities on the 24th, one thing is always a given during the holidays, and that's the German Christmas treats.
All of these treats are store bought and can be found at almost any German or European delicatessen this time of year.
One of my goals is to learn how to make all of these from scratch, but in the meantime, I will keep enjoying these once-a-year goodies.
A VIDEO REVIEW OF THE BEST GERMAN CHRISTMAS TREATS
Watch it or read it, here's the video review for you. If you like what you see, make sure to subscribe to my YouTube channel!
This post may contain affiliate links, meaning that if you choose to purchase something after clicking on one of the links in this post, I may earn a small commission at no additional cost to you.
GERMAN CHRISTMAS TREATS MAKE GREAT STOCKING STUFFERS
Every year, I go out and buy these treats for my Christmas platters (and for me to enjoy), but then without fail, I find them in my stocking.
Yes. My mom still fills a stocking for me, does anyone else's mother do this? If I'm really lucky, my Oma will also ship a parcel brimming with these special sweets.
When you open up a bag of these delectable gingerbread hearts, the aroma will put a smile on your face.
They are usually one of the first things to disappear in the pile of German Christmas treats because no one can get enough of them.
It's no wonder.
It's a soft gingerbread cookie with a layer of apricot jam in the centre that's enrobed in dark chocolate.
One is never enough!
These cute little chocolate wreaths are covered in sprinkles, which means kids (both little and big) are always reaching for these. They're pretty, crunchy, and festive.
I used to pilfer these from my mother when I was a kid. She would cleverly stash them away so I wouldn't find them, but every so often, I would hit the jackpot and start sneaking a domino here and a domino there. I showed exceptional self-restraint considering how brutal I was with the hidden boxes of Halloween candy! Those never survived.
Short for Dominosteine, these little beauties are bite-sized cubes that are covered in a dark chocolate coating.
Inside, it's a trifecta of gingerbread, apricot jam, and marzipan, layered on top of each other. It makes for one delicious bite!
By far my favourite of all the German Christmas treats on this list, these sweets look like baby potatoes.
They are seriously addictive, at least, they are for me because of my fondness for marzipan.
During my time spent in pastry, I made marzipan more than once and I couldn't stop myself from nicking naughty nibbles when no one was looking. Years have gone by since then, but I'd like to try making my own kartoffeln in the future.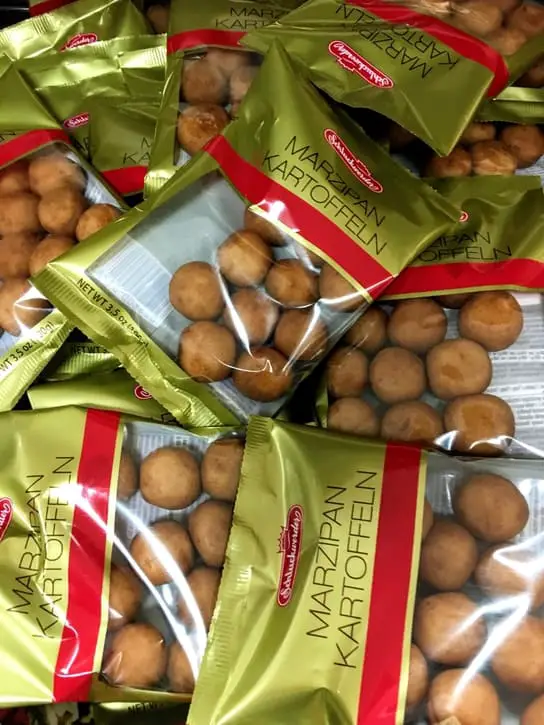 In the last couple of years, I've been noticing stollen becoming available in more and more bakeries during the holiday season. These loaves aren't cheap and neither are the packaged ones that are full of additives.
Stollen is a dessert bread that's studded with dried fruit and nuts. My favourite kind of stollen is an almond, or marzipan stollen, but you can also find some that are made with rum.
The finished loaf is coated in powdered sugar, making each bite incredibly delicious. It's the perfect thing to slice up when you have a friend over for coffee or you're waiting for your laundry to dry.
My Oma makes the best stollen and gave me her recipe a few years back. I still haven't made it, but this is the year I start experimenting. Nothing I make is ever as good as my Oma's baking, but she has decades of experience on me, so it's to be expected. Hopefully next year I can forego the store bought stollen and teach you how to make it for yourself!
These delightful marzipan logs are covered in bittersweet chocolate and come in different sizes. If I'm hosting, I will slice up a log to offer it to my guests.
If I'm not serving anyone and I'm feeling cheeky, I will rip off large chunks, or bite into it like a chocolate bar. There's never any remorse.
These guys are thin and crispy wheat wafers that look like a host, but are used in German baking. They were a favourite childhood snack of mine, and were one of the reasons why I looked forward to holy communion when I was a kid, because I would steal away with one of these round wafers.
Back-oblaten don't taste like much of anything, but I can easily go through a box of these. They come in a couple of different sizes, but I've never actually baked with them. This will change, because you need them to make…
These German Christmas treats are gingerbread cookies on wafers. My favourite kind is coated in dark chocolate, but you can also get them with a sugar glaze.
My mom usually picks up a variety pack with three different kinds of lebkuchen, but the chocolate are always the first to go, so when I shop for myself, I reach for the chocolate pack. What can I say? I'm a chocolate fiend!
This gingerbread, by the way, isn't what you would expect from a holiday gingerbread cookie. It's a lot more textured and it's nuttier.
Okay, so you may have gathered that I have a soft spot for marzipan. I already raved about the potatoes, but there's one other creation you'll want to pick up when you shop for German Christmas treats!
A marzipan pig is a symbol of good luck, which is the perfect stocking stuffer as we move closer towards a new year. This wasn't a tradition in my family, but I think it's a lovely gesture.
Marzipan can also be shaped into countless other objects. Where you'll find marzipan pigs, you'll also find pears, apples, bananas, and who knows what else.
YOUR FAVOURITE GERMAN CHRISTMAS TREATS
I'm curious to know which one of these most strikes your fancy. The marzipan? The gingerbread? The stollen? If you're not a stranger to German Christmas treats, is there anything you would add to this list? I hope you'll let me know in the comments below!
SHOP ONLINE FOR GERMAN CHRISTMAS TREATS
If you can, I encourage you to go out and give your patronage to a local European deli in your area. These are often family run businesses and they are bursting with all kinds of other delicious things to fill your fridge and pantry with.
Also, most of these items are overpriced on Amazon, so even more reason to go out!
Gingerbread hearts (lebkuchen herze)
Chocolate wreaths (schokoladenkränze)
Marzipan potatoes (marzipan kartoffeln)
German gingerbread (oblaten lebkuchen)
MORE CHRISTMAS-RELATED POSTS THAT MIGHT INTEREST YOU
Making spiked eggnog from scratch
French Canadian meat pie recipe for the holidays
PIN IT FOR LATER
Love and gratitude,