Rationing tips were plentiful during WWII. Here are twenty vintage pointers that might help you, too, if you ever find yourself in a pinch.

In 1940, Britain began rationing; in 1942, Canada and the US followed suit. Goods that had previously been taken for granted either became scarce or cost dearly.
Ration stamps were distributed to every household, granting families a purchasing allowance for meat, butter, sugar, coffee, tea, dairy and preserves. Needless to say, this changed the way folks ate.
Since resources were being focussed on the war effort, there was a massive shift from importation to local production and consumption. To do their part on the homefront, women had to be creative in the kitchen, making do with what they could buy for their families. There's a lot we can learn from them.
VINTAGE RATIONING TIPS FROM WWII – A VIDEO
Welcome to the Kitchen! If you'd rather tune into a video than spend time reading, then I've got you covered. There's a video to go with each and every article and recipe, so if you dig my vintage vibe, consider subscribing to my YouTube channel.
To help offset the cost of running the site, there are affiliate links sprinkled throughout this post. This means I earn a small commission at no additional cost to you on qualifying purchases. Here is my full disclaimer to learn more about it.
Before we get into it, I want to say that there are a plethora of resources out there where you can find even more vintage rationing tips. The list we're about to dig into was compiled using Marguerite Patton's Victory Cookbook and Betty Crocker's Your Share: How to Prepare Healthful Appetizing Meals .. with Foods Available Today. Let's begin!
1. PLANT A VICTORY GARDEN
While the men were at war, one of the things the homefront kept busy with was digging up victory gardens. Backyards and front yards were dug up, and cabbages, carrots, potatoes and other hardy vegetables were planted.
The goal of the victory garden was to supplement the diets of the folks on the homefront. I've written at length about victory gardens because when things are tight and food is hard to come by, knowing how to grow your own food is invaluable. It's never too late to start learning!
RELATED: The Modern Victory Garden
2. EAT MORE CARROTS
Where there was a victory garden growing, there were carrots. These root vegetables are relatively easy to grow, cheap to buy, and are slow to spoil if stored properly.
What's more, carrots are quite versatile in how they can be prepared, being used in both savoury and sweet preparations. When oranges were scarce, some imaginative Brits even used carrots to make their beloved marmalade! Carrot jam, anyone?
RELATED: Easy Fermented Carrot Sticks
3. LEARN HOW TO COOK POTATOES
Similar to carrots in their abundance, cost and hardiness, potatoes play an important role when times get tough. Fortunately for us (and everyone who's had to live off potatoes), this starchy tuber can be turned into a number of different dishes by a crafty home chef.
Potatoes can be mashed, baked, fried, boiled, roasted, turned into soups, thrown into stews, added to bread, and transformed into fritters, croquettes, and goodness knows what else. They were an invaluable part of the wartime kitchen, that's for sure!
RELATED: German Potato Pancakes
4. DON'T LET GOOD FOOD GO TO WASTE
During this period, wasting food was practically a crime. The wartime propaganda advised women on how they could save every ounce of food. There wasn't a lot of food to waste, to begin with, so learning how to be creative and resourceful was essential.
Leftover meat would be diced up and turned into a stew or a pie. Vegetable scraps, like parsley stems, were given new life by being added to soups, stews, and stocks.
Extra fish could be transformed into a rillette, a salad or a sandwich filling. Meat drippings were collected, and even vegetable water was saved!
RELATED: Turning Food Scraps into Homemade Broth
5. REUSE VEGETABLE WATER
This one sounds really weird, right? When vegetables are boiled, nutrients get leeched into the water. If the water gets dumped down the drain (as it usually does) that's a waste of vitamin water!
While it might be hard for us to imagine it, the homefront dictated that when you don't have food to waste, every last nutrient counts. That's why 1940's ladies reused their vegetable water in their stocks, soups and sauces.
Honestly, they'd probably swoon if they knew how much food the average household throws out annually. Last year, Forbes estimated that Americans throw out 30-40% of their food!
6. BECOME A SAUCE BOSS
One of the best ways to jazz up a meal is to serve it with a sauce. Unfortunately, many of us depend on packaged or canned sauces to dress things up, but we can learn! The art of making a good sauce is well within reach.
The next time you have meat drippings or crusty bits of meat stuck to the pan, pull a page from the 1940's playbook and turn it into a gravy. Add beef stock and thicken it with a roux (equal parts of flour mixed with butter) or cornstarch. White sauces and cheese sauces are also easy to prepare, even with scanty rations!
RELATED: Cauliflower Cheese with a White Béchamel Sauce
7. COOK YOUR OWN BEANS AND LEGUMES
If canned beans and legumes could even be purchased, why waste precious stamps on them when it's far more economical to cook your own? Considering the sodium, and in some cases, additives, it still makes sense to follow this tip today.
RELATED: How to Cook Dried Beans and Legumes
8. MAKE FRIENDS WITH OATMEAL
Oatmeal was one of the most important staples in the 1940s kitchen. Because they were locally produced, oats were abundant and economical.
When bread went on the ration, oats were finely ground to cut into regular flour in order to stretch it out. They were used to thicken soups and stews. To replace nuts, oats were toasted to crisp them up. Mixed into stuffings, burgers, and sausage meat, oats made a great filler. In fact, a lot of gluten-free folks still do this, today!
A slow-burning fuel, oatmeal is the most healthy and economical when sold as plain old-fashioned oats or steel-cut oats without any sugars or additives. To make them even more digestible, try soaking them overnight!
RELATED: Fermented Maple Walnut Steel-Cut Oatmeal
9. PLAN A BAKING DAY
Energy conservation was a big focus in Britain during WWII. One of the ways women were encouraged to save fuel was to plan a baking day. The goal of this was not only to get all of the baking done for the week but to maximize oven space. Neighbours pooled together to fill up the oven.
Most of us don't give it a second thought when we fire up our ovens but with the cost of fuel going on the rise, we can profit from this. The next time you put a lasagna in the oven, why not pop in a few sweet potatoes, a couple of heads of garlic, or a squash?
If you're keen on saving money on next month's energy bill, be sure to check out my post on vintage energy conservation tips!
10. USE YOUR BREAD
While we've already covered not letting food go to waste, bread deserves a special category of its own. There's so much that can be done with it once it goes stale! That's why it was important for those on the homefront to ensure their bread didn't go mouldy: stale bread is easy to work with, mouldy bread not so much!
With stale bread, you can make croutons to dress up soups and salads. It can be turned into pudding, pulverized into breadcrumbs, or soaked in milk or water to be added to meat patties and meatloaf (this stretches out the meat!). And as long as the stale bread isn't rock-solid, it can be dipped in egg and transformed into french toast.
11. PRESERVE EXTRA PRODUCE
In an effort to not let food go to waste, extra produce was preserved for later use. The extra produce mostly came from the victory garden, but this still applies today.
As an example, when I buy a flat of pears at a great price and they don't get eaten, I turn them into a heavenly pear and vanilla jam. A boon of tomatoes becomes tomato sauce and the veggies in the crisper would rather become fermented pickles than rot away.
In the fall when apples are abundant, the blemished apples (or the ones that have fallen) can be dehydrated. Extra bananas are also ideal candidates for dehydration, but if they're bruised, in the freezer they go!
RELATED: Preserving Food to Fill the Larder
12. LEVERAGE NATURAL PECTIN
Did you know that you can make your own pectin using apple scraps? It's true! Since packaged goods were scarce, ladies had to make their own pectin to thicken their jams and jellies. The Spruce Eats has a tutorial on how to do this in case you want to learn how to do this, too!
13. SAVE FAT (AND LEARN HOW TO RENDER IT)
With butter being on the ration, it could no longer be leaned upon as the main cooking fat in the kitchen. Of course, there was oleomargarine to supplement the butter, but even fat that was rendered during cooking couldn't be wasted.
The layer of fat that congeals on top of stocks and stews was skimmed off and saved. Grease from pans was collected (especially bacon fat) and even the fish oil from canned sardines was put to use. Have you ever saved fat?
14. EAT OFFAL (IT'S GOOD FOR YOU!)
Offal, like liver, kidneys, sweetbreads and heart, were amongst (and continue to be) some of the cheapest cuts of meat that could be purchased. Due to lower demand, offal wasn't even part of the ration until the meat supply dropped.
As it turns out, organs are one of the most nutrient-dense foods out there, teeming with copper, zinc, selenium, and vitamins A, B12, C, and D to name a few. They're more of a challenge to source today, but if you can get your hands on them, learn how to prepare offal. It'll be well worth your while!
15. DON'T DISCOUNT CANNED MEAT
When fresh meat is hard to come by, it's time to consider canned meat. As vehemently as the plant-based folks will argue, you can't get everything you need from plants. B12 is the big one, but there's also vitamin D3, DHA, heme iron, taurine, creatine and carnosine. While canned meat is far from ideal, it's better than nothing, which is why canned corned beef, ham, sardines, and even whale meat were snapped up during WWII.
16. USE A DRIED EGG SUBSTITUTE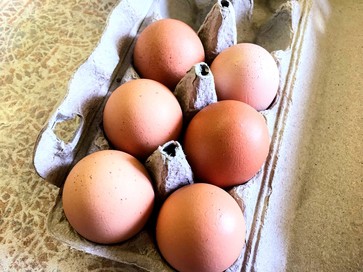 In Britain, fresh eggs were a treat. With a ration of one egg a week per person, powdered eggs became necessary. Cooking with dried eggs was a learning curve in the beginning, but by the end of rationing, the ladies were proficient enough that they were making omelettes, custards, and whatever they wanted with the dried egg substitute. It's one thing I recommend having on hand when it comes to prepping for an emergency!
RELATED: Surviving Hard Times
17. STRETCH SUGAR
We all know sugar is bad for us, so it probably should have been counted as a blessing when sugar went on the ration. Nevertheless, ladies depended on sugar for baking and making jams and preserves. Resourceful as they were, they figured out that adding baking soda while stewing fruit (half a teaspoon per pound of fruit) helps to cut out a bit of sugar.
Another way sugar can be saved is to replace it with another sweetener, like honey. Sweetened condensed milk and golden syrup were also popular options, but today we have quite the selection of sweeteners to choose from.
18. STRETCH MEAT
When times get tough and choice roasts and steaks are out of reach, it's time to get creative. Rather than omitting meat from the menu, select cheaper items that are often overlooked, like offal and tough cuts of meat. Tough cuts can be braised or stewed to render them tender, so mastering those basic cooking methods will pay dividends.
Another thing to consider is that while one steak might feed one or two people, a pound of ground beef can feed four. Meat can also be stretched by including other ingredients, like noodles, beans, cheese, and rice.
19. HOLD BACK ON BUTTER
Did you know that margarine was a product of war? It was originally invented as a means to supply the army and peasants with an affordable alternative during the reign of Napoleon III (Medium has a cool write-up about it). A cheap substitute for butter, margarine gained massive popularity during WWII when butter was rationed.
Since seed and vegetable oils are terrible for health, however, I don't recommend swapping out butter with margarine or shortening. There are other options.
For cooking, animal fats such as lard, tallow, bacon grease and other drippings were and continue to be a good alternative to butter. As an added benefit, they have a higher smoke point than butter and don't burn as easily. Lard is also famously used for flaky pie crusts. If you're worried about saturated fats, just remember that animal fats have DHA, and our beautiful brains love DHA.
20. USE A PRESSURE COOKER
During an era when time and fuel were both precious commodities, owning a pressure cooker was a boon. Not only did it speed up dinner, but it also meant you could save more energy. So if it's been collecting dust, bring out the Insta-Pot tonight!
WHAT'S YOUR FAVOURITE VINTAGE RATIONING TIP?
Hopefully, we'll never see rationing as it was done in the 40s. While there's no way of seeing what the future holds, I believe it's better to be prepared and know how to survive (and stay well-nourished) than to run around like a chicken with its head cut off, don't you?
MORE VINTAGE-INSPIRED ARTICLES YOU MIGHT LIKE
15 Old-Fashioned Skills We Should Reclaim
Food Staples Our Great-Grandmothers Never Bought
The Comeback of the Victory Garden
Vintage Ways to Save Money on Your Energy Bill
PIN IT FOR LATER