Kartoffelpfannkuchen, or, German potato pancakes, is a simple traditional dish that makes for an easy meal. All you need are a handful of ingredients, a food processor and hot skillet!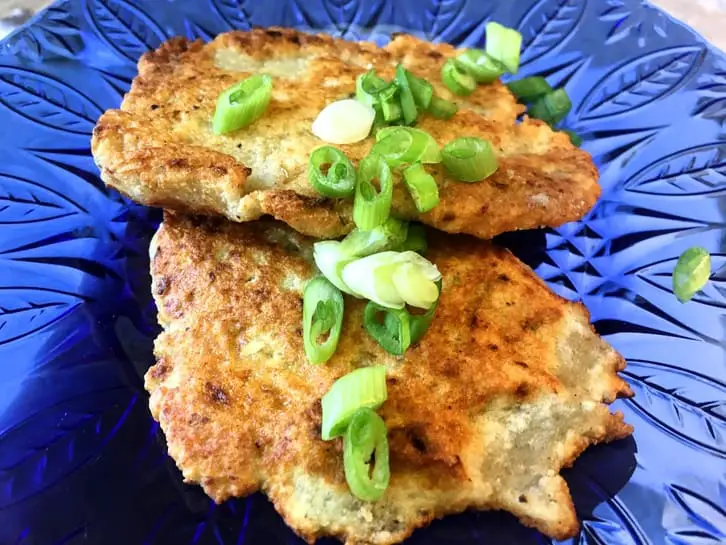 WHAT ARE GERMAN POTATO PANCAKES?
Growing up, German potato pancakes were a special treat on our table. Of course, we just called them potato pancakes, but when I asked my mom for her recipe, she looked at me blankly.
"Do you mean latkes?" she asked.
"When have you ever called them latkes, Mom? You've always called them potato pancakes."
"I have not," she replied obstinately.
A couple of weeks later, my uncle posted a picture of his dinner on social media.
"Made some potato pancakes" read the subtitle.
Aha! I wasn't remembering wrong after all.
To be fair, they're a bit like latkes, but they're easier.
You don't need to boil anything and there's no leavener involved, like baking soda.
It's pure and simple with raw ground potato, onion, flour, seasonings and if you want, an egg.
GERMAN POTATO PANCAKES RECIPE VIDEO
I don't call myself the Vintage Kitchen Vixen for nothing. If you're new to the Kitchen and enjoy my unique video style, I hope you'll subscribe to my YouTube channel!
This post may contain affiliate links, meaning that if you choose to purchase something after clicking on one of the links in this post, I may earn a small commission at no additional cost to you.
SELECTING THE POTATOES
My favourite potato for German potato pancakes is Yukon Gold.
These yellow potatoes hold up well to pan-frying, but so do Russets, red potatoes and new potatoes.
While it's tempting to use firm potatoes, I do encourage you to use up those sad potatoes that are all too often thrown out because they're wrinkled and squishy.
Those potatoes are still good!
The same thing goes for potatoes that are sprouting.
Waste not, want not!
USE THE POTATO PEELS, TOO! A QUICK ROASTED POTATO PEELS RECIPE
Did you know that potato peels are edible?
They're also full of vitamins!
Sometimes when I'm making mashed potatoes, I'll leave the skin on, but usually, I'm left with a pile of potato peels when I'm through.
The same goes for when I'm making German potato pancakes.
If I had backyard chickens, I might be tempted to throw them the peels, but that pile of peels is an easy snack or appetizer just begging to be made!
Transform your kitchen scraps into a healthy, crispy snack by pre-heating the oven to 400ºF/205ºC.
Drizzle the skins with olive oil and toss them with salt, pepper, herbs, and whatever spices might strike your fancy.
Dill and parsley are my favourite picks for easy roasted potato peels.
Roast them for 10 minutes on a parchment-lined baking sheet, then give them a quick stir.
Bake them for another 10-15 minutes until they're crispy and golden.
Serve them with a spritz of vinegar or with ketchup or aioli. Delicious!
NOW BACK TO GERMAN POTATO PANCAKES
Peel and quarter the potatoes.
Set them aside in a bowl of cold water for the time being.
If you wish to prepare the potatoes in advance, you can store them like this in the fridge for a couple of days until ready to use.
Quarter an onion and run it through a food processor with the blade.
Your goal is to grind it to a pulp, so it's helpful to scrape down the bowl halfway through.
When the onions are ready, transfer them to a large mixing bowl and turn your attention to the potatoes.
In two batches (assuming you have an average-sized food processor), grind up the potatoes to a foamy pulp.
While it may be tempting to process the onion and potatoes at the same time, I recommend keeping them separated.
The onion has a lot of juice that will bring a whole lot of flavour to the pancakes.
Potatoes also have a high water content, so we will be squeezing them as much as possible before mixing the German potato pancake batter together.
SQUEEZING THE POTATOES (or not)
Removing water is an important step and will make all the difference in how your potato pancakes turn out. There are two ways around this.
One way is to line a sieve with cheesecloth and add the potatoes.
Alternatively, you can transfer the potato pulp to a nut milk bag if you have one lying around.
If you go down the cheesecloth route, be careful not to squeeze too hard: the last thing you want is your precious potato pulp shooting out!
Gently work on the potatoes, squeezing the bundle for a couple of minutes until it starts getting dry.
By the way, the potato water will be brown, so don't be alarmed!
The second way is to let the potatoes settle in the bowl for a bit and wait.
Water will come to the surface.
Using a spoon, scoop out the water and proceed to the next step.
MIXING THE INGREDIENTS
Add the potato pulp to the bowl with the onion and mix in the remaining ingredients, save the oil.
My favourite mixing tool is a dough whisk. If you don't have one of these, I highly recommend them for thick batters!
If you find the batter is too wet and have a hard time forming a pancake, add a bit more flour to firm it up.
When my mom makes these pancakes, she always includes an egg, but I find that this recipe can hold up just fine without the added egg.
FRYING GERMAN POTATO PANCAKES
Cast-iron cookware is my truest kitchen ally, so if you have a cast-iron skillet, bring it out!
If you're brand new to cast-iron cooking and want to know what all the hype is about, you can learn all cooking with cast-iron here.
The type of oil you use to make these Kartoffelpfannkuchen doesn't matter very much as long as it has a high smoke point.
My favourite picks are refined coconut oil, avocado oil, beef tallow, and duck fat.
When the skillet is hot, melt the oil and add the pancakes, shaping them as you go along.
As the batter is a bit sticky, you might find it helpful to have a small bowl of water nearby so you can wet your hands in between pancakes.
I have a tendency to shape my pancakes as thin as possible to ensure a quick fry.
This method yields around twelve potato pancakes.
A thicker pancake will naturally yield you less.
When you notice the edges getting crisp and golden in the skillet, flip the pancakes over.
It takes a couple of minutes per side.
SERVING GERMAN POTATO PANCAKES
German potato pancakes are best served hot (although I've enjoyed cold leftovers on more than one occasion).
Most everyone I know likes to have some kind of condiment to dip their pancakes into.
My favourite accompaniments are ketchup, apple sauce and aioli, but apparently, sourcream and syrup make a good combo, too!
When I make this traditional dish, I'll often serve it with a side of homemade sauerkraut or a fresh salad, like this racy roasted beet salad.
In the winter months, you might even like to serve a hot soup with the potato pancakes. Borscht, anyone?
MAKING POTATO PANCAKES
My favourite thing about this easy recipe is how I almost always have all of the ingredients on hand.
Plus, it's a frugal meal to boot!
If you want to take a look at some of my other frugal recipes, check out any of the links below!
Oh, and if you wind up making this recipe, I hope you will take the time to leave a rating and review in the comments below.
Thanks for stopping by the Kitchen!
OTHER FRUGAL RECIPES YOU MIGHT BE INTERESTED IN…
Vegetarian Shepherd's Pie (with Homemade Veggie Ground Round)
Victory Borscht (a Wartime Recipe)
SHOP THIS POST
PRINTABLE GERMAN POTATO PANCAKES RECIPE CARD
German Potato Pancakes
Kartoffelpfannkuchen, or, German potato pancakes, is a simple traditional dish that makes for an easy, frugal meal. All you need are a handful of ingredients, a food processor and hot skillet!
Equipment
Food Processor

12" Skillet
Ingredients  
3

lbs

potatoes

ie. Yukon Gold, Russet, red potatoes, etc.

1

onion

1

cup

flour

1.5

tsp

salt

1/2

tsp

pepper

1/4

tsp

nutmeg

3-4

tbsp

cooking oil

ie. avocado, refined coconut, beef tallow, duck fat, etc.
Instructions 
Peel and quarter the potatoes and onion*

Run the onion through the food processor with the blade until it's reduced to a pulp. You may need to scrape the bowl down once or twice.

Transfer the onion pulp to a mixing bowl and process the potatoes in two batches until they're a foamy pulp, like the onion.

Scrape the potatoes into a cheesecloth-lined sieve or nut milk bag* and squeeze them until most of the water has run out. This may take a couple of minutes and the water will be brown, so don't be alarmed!

Add the squeezed potatoes to the bowl with the onion and add the remaining ingredients, save the oil.

Mix the batter. If it feels too wet, add more flour. When you're able to form a pancake with your hands and it holds its shape, it's ready.

Heat the skillet. When the oil is hot, form the patties one-by-one. You may want to keep a small bowl of water handy to wet your hands in between patties.

When the edges are crisp and golden, flip the pancakes. It takes a couple of minutes per side.

Serve hot with ketchup, aioli, apple sauce, or your preferred condiment of choice.
Notes
*To reduce waste and stretch your ingredients, preheat the oven to 400ºF/205ºC. Toss the potatoes in olive oil, salt, pepper, and whatever herbs and spices you'd like. Roast for 20-25 minutes, stirring them around half way through. This makes for an easy appetizer or snack! As for the onion, toss that into a ziplock bag and store it in the freezer for homemade stock.
If you wish to peel and quarter the potatoes in advance, store them in cold water and stow them away in the fridge for a day or two until ready to use.
*Instead of squeezing the potatoes dry, you can also allow the potatoes to settle in the bowl for a few minutes. Water will come to the surface. Just scoop it out with a spoon!
PIN IT FOR LATER
Love and gratitude,