This  spicy green caesar smoothie is not your average green smoothie. Blend this up to get in your daily servings of vegetables and a zesty kick to jumpstart your day. It's everything your body craves!
IS A SPICY GREEN CAESAR SMOOTHIE LIKE AN ACTUAL CAESAR?
First off, the spicy green caesar smoothie is missing almost all of the elements that make a real caesar cocktail. For one, there's no tomato clam juice, nor is there Worcestershire sauce, nor Tabasco. Not even vodka. "How dare you!" you might say hotly, your finger pointed accusingly at me. "That's not a caesar, that's cocktail appropriation!". Well, yes, but let's not be hasty! Allow me to make my plea.
MAKING THE GREEN SMOOTHIE: A VIDEO
If this is your first time visiting the kitchen, you're about to find out why I call my kitchen vintage… If you like my style, please consider subscribing to the Vintage Kitchen Vixen YouTube channel!
This post may contain affiliate links, which means I make a small commission at no cost to you.
HOW THE SPICY GREEN CAESAR SMOOTHIE COMPARES TO OTHER GREEN SMOOTHIES
Let's take a look at what the spicy green caesar smoothie has going on for it. Reflecting back on all of the green smoothies you've had in your life, what stands out? How did they taste? In my experience, green smoothies are usually ice cold and sweet because they're mixed with frozen fruit like mangos, bananas, berries and pineapples. The whole point is to make the greens more palatable, because who in their right mind wants to drink their salad? That wouldn't taste very good, would it? At the end of the day, this would be closest to what's presently branded as a detox smoothie.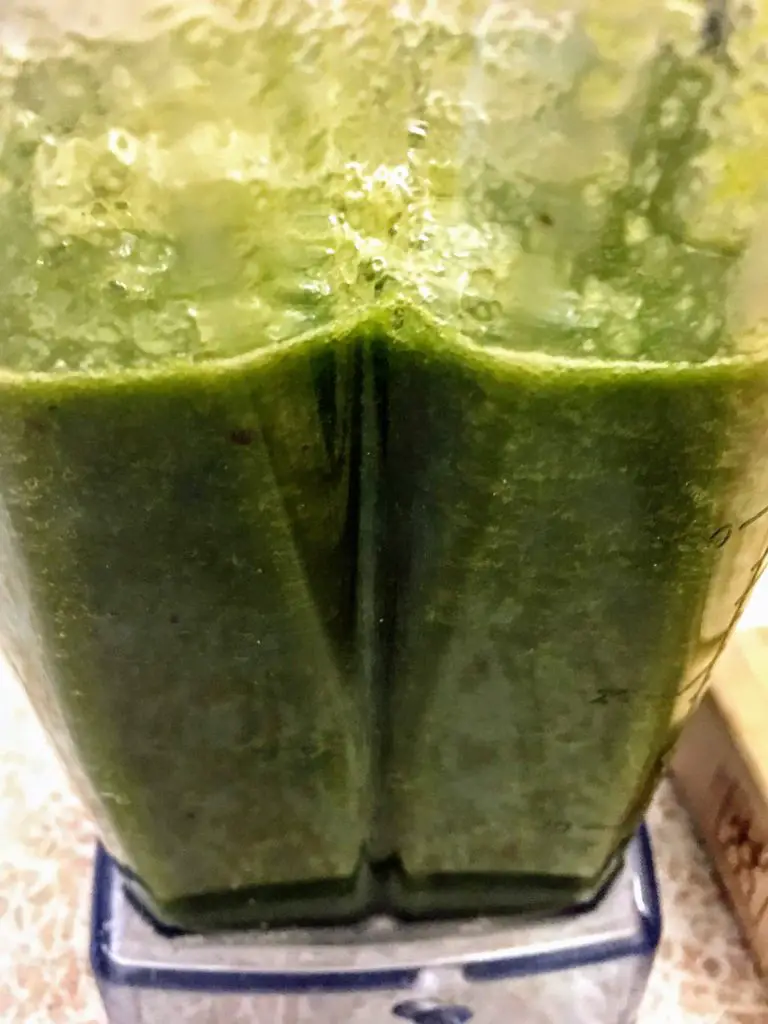 THIS GREEN SMOOTHIE IS DIFFERENT
The spicy green caesar smoothie is different. It is brimming with vegetables–quite possibly more vegetables than you normally eat in a day. It is fibre in a glass. If you haven't made friends with fibre yet, the spicy green caesar smoothie eagerly awaits you.
It's spicy, lemony, and savoury. It's the only smoothie I've ever had and said, "Huh, this could be good with a shot of vodka". It might not be a caesar, but for a smoothie, it comes darn close to tasting like one. If you make it for yourself, you'll see what I mean,
THE SPICY GREEN CAESAR SMOOTHIE IS NUTRITIOUS
This is the nutritious green smoothie you've been looking for. It's the kind of smoothie your body needs when you're sick, hungover, or recovering from a day of poor food choices. It's packed with an alphabet of vitamins and it's at a temperature that your body will appreciate. Of course, if you want it cold, you're welcome to throw in ice cubes, or refrigerate it for later, but it should be consumed the same day it's made to preserve all of its nutrient power.
WHAT'S IN A SPICY GREEN CAESAR SMOOTHIE?
So far we know that this smoothie is free from tomato clam juice, Tabasco and Worcestershire sauce. We know that it's spicy, lemony and green. but what exactly goes into it? Well, we're going to go through this together, but first, a disclaimer.
DISCLAIMER:
Normally I give you recipes and encourage you to play around and make it your own. Not today. Any modifications that are done to this smoothie will have an impact on its flavour. Every so often I'll forget an ingredient, and it completely changes the smoothie. When I was recording the video, for example, I forgot to add cucumber and it was a terrible disappointment. With that being said, there are a couple of modifications that blend in well. I will include them below when I list out the ingredients.
CELERY FOR SODIUM
If you forget the celery, the caesar element is gone. It adds a salty quality to the smoothie that you wouldn't get otherwise. Additionally, celery is great for digestion and is full of antioxidants.
LEMON FOR TARTNESS
Lemons are rich in vitamin C and boast a number of health benefits. They go into this smoothie for the acidity. For one serving, I peel half a lemon and toss it in the blender with the rest of the ingredients. I recommend grating the lemon peel for its zest beforehand to freeze it for future use.
GREENS FOR FIBRE
What's a green smoothie without greens? These are my two favourite greens to use. Take your pick!
Kale
In the last five years, kale has exploded in popularity, and it's no small wonder why! It's bursting at the seams with vitamins K, A, and C. Kale is packed with all kinds of nutrients and antioxidants, which is why it's best consumed raw, as cooking it saps its power. Be sure to opt for organic kale, because it's also one of the most heavily pesticide-sprayed greens. Better yet, grow your own!
Spinach
Popeye the sailor ate his spinach for a reason! It provides a wealth of vitamins K and A. Spinach is also rich in folate, which aids in red blood cell production. What's not to love?
CARROTS FOR VITAMIN A
Did you grow up being told that carrots will help improve your eyesight? That's because carrots are full of beta carotene, which our hardworking bodies transmute into vitamin A. The vision thing comes from the vitamin A. Then there's vitamins in the B family, vitamin K and potassium, to name some of the heavy hitters.
TOMATO FOR FLAVOUR
This may be where some of the caesar flavour comes from. Never forget the tomato; you will regret it if you do. Not only because the smoothie will taste off, but also because of all the vitamins and minerals you'll be missing out on, like potassium, vitamins A, K1 and that world famous folate.
CUCUMBER FOR HYDRATION
Cucumber adds a juicy quality to this smoothie that you won't want to be without. If your cucumber is organic or homegrown, don't even bother peeling it. Just cut it in large chunks and toss it in the blender.
APPLE FOR A HINT OF SWEETNESS
An apple a day keeps the doctor away, so why not toss one in? Apples are loaded with antioxidants, and I find that including one in the smoothie helps mellow out the mixture.
PARSLEY OR CILANTRO FOR DETOXING
This is one of the ways to modify your green smoothie, so it depends on what you have on hand. Either one is an excellent choice. Parsley boasts a beautiful vitamin C profile and lots of folic acid, while cilantro is cleansing. Of the two, I'd have to say that cilantro is the MVP (seriously), but use what you have.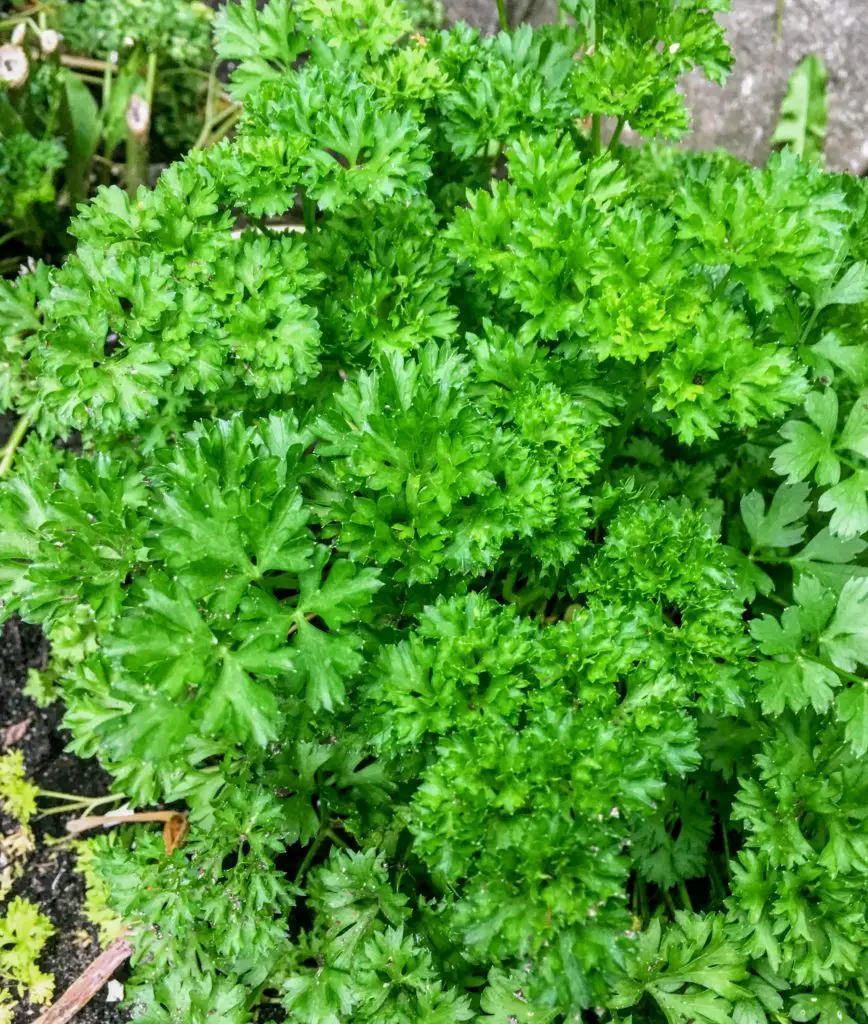 DRIED CHILIS FOR HEAT
If you saw my tequila lime chicken quesadillas post, you'll know that I can't get enough spice in my life. Spicy foods are the bee's knees. They also add a heat to this smoothie that is absolutely delicious and is the final reason why I compare it to a caesar, because, well, I like my caesars spicy.
OPTIONAL: AVOCADO
When I have avocados on hand, I don't think twice about tossing one into the blender along with everything else. It imparts a beautiful, creamy consistency to the smoothie. My husband, Big Papa, is a bit of a wisecrack and shouts, "Guac Shake!" when I add an avocado to our green smoothies.
WHAT'S YOUR FAVOURITE KIND OF SMOOTHIE?
Have you ever had a smoothie like this before? What's your favourite kind of smoothie to have to kickstart your day? Let me know in the comments below! Also, if you like smoothies, then you might also like this…
SHOP THIS POST
PRINT IT: SPICY GREEN CAESAR SMOOTHIE RECIPE CARD
Spicy Green Caesar Smoothie
This spicy green caesar smoothie is one way to get in all of your vegetable servings for the day. Bursting with antioxidants, vitamins and minerals, this smoothie has the perfect balance of ingredients to remind you of the classic caesar cocktail.
Ingredients  
2

handfuls

spinach or kale

2

celery stalks

2

cups

water

1

handful

parsley or cilantro

1

tomato

1

carrot

1

apple

½

cucumber

½

lemon

rind removed

1

red chili pepper

dried
Instructions 
Chop the celery, carrot, apple, cucumber, and tomato into large chunks

Add all ingredients to a high powered blender
Notes
An avocado makes a delightful addition. 
Serve at room temperature, but ice can be added.
Best consumed the day it's made for optimal nutrients. 
PIN IT FOR LATER
Love and gratitude,