Making vanilla extract from scratch is a reward all on its own. Whether it's to save a bit of money, enhance your baking experience, or make a thoughtful handmade gift, there's something special about extracting your own vanilla flavour.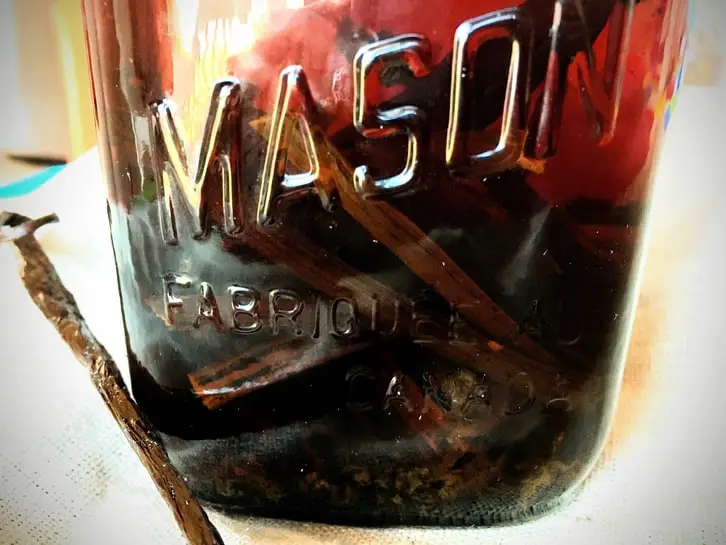 MAKING VANILLA EXTRACT FROM SCRATCH
To some, making a vanilla extract from scratch seems out of the realm of possibility. The truth is, it couldn't be easier to make!
No matter how many different ways you roll the dice, vanilla is expensive.
Taking the DIY approach, however, will save you a few bucks and give you a cool kitchen project. All you need is a handful of vanilla beans, a half-pint mason jar, 80-proof alcohol, and six months' worth of patience.
RELATED: Making the Most Out of Vanilla Bean Scraps
HOMEMADE VANILLA EXTRACT VIDEO TUTORIAL
In this video, I will go over everything you need to know about making vanilla extract. To find more videos like this one, be sure to subscribe to my YouTube channel!
This post may contain affiliate links, meaning that if you choose to purchase something after clicking on one of the links in this post, I may earn a small commission at no additional cost to you.
WHAT KIND OF VANILLA BEANS SHOULD I USE FOR HOMEMADE VANILLA EXTRACT?
When it comes to vanilla beans, Madagascar bourbon vanilla beans are the most popular option.
These beans have a rich and creamy flavour and are perfect for baking.
Another option is Tahitian vanilla beans, which are floral and have the slightest hint of chocolate.
Next up are Mexican vanilla beans, which are sweet and smoky.
Really, you can't go wrong.
Another thing to consider is the grade of vanilla bean.
Grade A vanilla beans are soft, easy to work with, and are probably what you're familiar with if you've worked with vanilla beans in the past.
They are the popular option for baking and making desserts like homemade vanilla pudding.
Grade B vanilla beans are a bit tougher to work with and are the primary choice for extracting.
Moreover, Grade B beans are cheaper, so if that isn't a win, I don't know what is!
WHAT KIND OF ALCOHOL SHOULD I USE FOR HOMEMADE VANILLA EXTRACT?
Today we're using brandy, but almost any 80 proof alcohol will do.
Vodka seems to be the top pick for making vanilla extract because it doesn't have much flavour.
That being said, spirits like brandy, bourbon, and dark rum complement vanilla, giving you an extract that you're not likely to find in a store.
That's just one of the many benefits of making your own from scratch!
One thing to keep in mind when it comes to selecting your alcohol is to avoid anything that's artificially flavoured.
In other words, stay away from flavoured vodkas!
While in theory, a birthday cake vanilla extract sounds good, you don't want to mess with the purity of your extract by inviting artificial flavours to the party.
One thing a lot of folks like doing is splurging on vanilla beans and buying cheap alcohol.
However, some caution this approach.
Ultimately, how much you spend on your alcohol is up to you, but it is advised that you should at least use alcohol you would drink yourself.
HOW MANY VANILLA BEANS SHOULD I USE TO MAKE AN EXTRACT?
In the recipe we'll be making today, we will be using five vanilla beans per cup of alcohol.
If you want to stretch your vanilla beans a bit, you can get away with using only three beans, but five will give you a richer flavour.
While you can certainly use more vanilla beans, you won't want to use less than three.
SCRAPING THE VANILLA BEANS
I am a huge advocate for scraping the vanilla beans when making vanilla extract, but this is optional.
I adore the delicate flecks of vanilla bean and find them to be beautiful.
They give vanilla extract an artisanal feel.
Think about it.
If you have a hankering for vanilla bean ice cream, wouldn't you want to see those little black specks in there?
Commercial vanilla extract is strained, so this is a way for your vanilla to stand out.
If you would rather have vanilla extract without the "pulp", then don't scrape the vanilla bean.
You might also want to strain the liquid through cheesecloth after the extraction process, but more on that later.
However, DO cut the vanilla bean in half, lengthwise.
This simple step will speed up the extraction process considerably!
STORING THE VANILLA EXTRACT
Vanilla extract does best when kept in a dark place, like a kitchen cupboard.
If you're unable to keep it out of the light, be sure to store it in an amber glass jar or bottle, otherwise, a mason jar will do.
AGEING THE VANILLA EXTRACT
Once your vanilla extract is set up, it's best to age it for at least six months to a year, giving it a quick shake every week or so.
I've heard of some folks speeding up the extractionon process by vacuum sealing their jar, but I haven't put this method to the test.
If you're anxiously awaiting your homemade extract, give it a sniff after a few months have passed to see if it smells like vanilla.
If it still smells like alcohol, let it sit a bit longer!
Vanilla extract is one of those things that ages better with time, especially if you keep your vanilla beans in the jar after the six-month mark has passed.
For the folks who want to strain their extract, beware: you'll be missing out on extra flavour!
The longer the beans sit in the extract, the more flavour it will develop.
Just be sure to keep the beans submerged under the alcohol!
Exposure to open air may cause them to get slimy and mould, which will ruin the extract.
HOW OFTEN SHOULD I MAKE VANILLA EXTRACT?
This really depends on how much vanilla extract you go through!
Since I make my extract in half-pint batches, I usually start a new batch when I notice I have a third of a jar left (around 150mL).
Since I know it takes at least six months to make quality vanilla extract, I want to give myself a big enough window for the extraction.
I go through a fair amount of vanilla extract, so I make it every year or year-and-a-half, as needed.
WHAT TO DO WITH THE USED VANILLA BEANS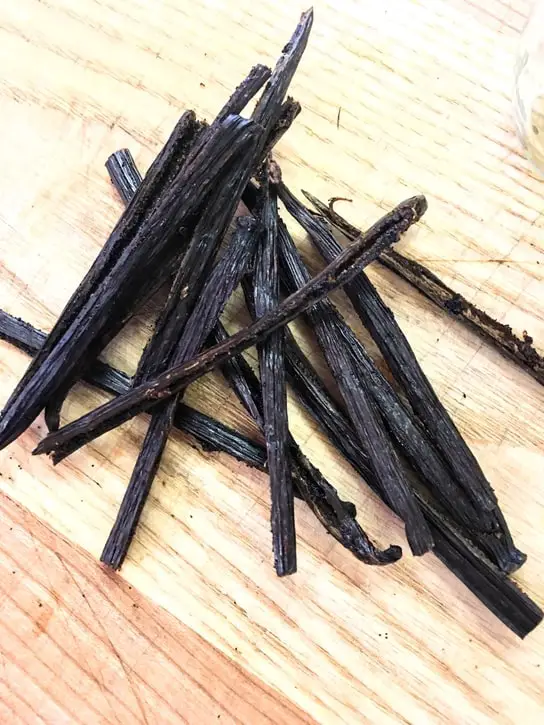 Whenever I go to start a fresh batch of vanilla extract, I transfer my spent vanilla beans to the new jar.
Some folks will top off their existing vanilla extract with additional alcohol for a continuous supply, but the way I see it, the beans have already given most of their flavour, so unless fresh vanilla beans are added to the mix, this is a formula for diluting the extract.
Since I like stretching my ingredients, another thing I will do with my spent beans is dry them.
This is especially true when I have too many old beans for a new jar of extract, so here's what I do with them.
Once the beans are dry, stick them in a ziplock bag or a container with a cup or two of sugar.
Every few days, give it a shake.
In a couple of weeks, you will have your very own homemade vanilla sugar.
Use it to bake madeleines, make crepes, whip up cream, stir it into coffee or tea, or sprinkle it over fresh strawberries. What a treat!
THE PERFECT GIFT
This might go without saying, but homemade vanilla extract makes the perfect gift.
It's sweet, it's thoughtful, and more importantly, it's useful!
Vanilla extract is one of those gifts that's going to get used and will no doubt be appreciated.
Whether it's for the holidays or a way to say thank you to party hosts or teachers, if you make a small stash of 2oz or 4oz bottles, you will always have a gift at the ready.
When making vanilla extract for gifts, there are two options: preparing a big batch to pour into the bottles or extracting the vanilla directly in the bottles.
The first route is by far the easiest because you won't need to shake all of the bottles on a regular basis.
For that extra touch of a vanilla bean in the bottle, just stick in one of the used beans after the extraction process.
Here are a few things to keep in mind:
THINGS TO KEEP IN MIND WHEN GIFTING VANILLA EXTRACT
If the extraction process isn't over, let the recipient know when it can be used. This can be included on a handmade label.
When including a decorative vanilla bean, make sure that the recipient knows to keep it submerged.
For a cute DIY gift, stick whole vanilla beans in an empty bottle and print out a set of step-by-step instructions.
MAKING VANILLA EXTRACT
Vanilla extract is one of those ingredients I can't be without in the kitchen.
Once upon a time, a LONG time ago, I used artificial vanilla, then I graduated to pure vanilla extract.
Since I started making my own from scratch, I can't fathom the idea of buying it from the store again.
It's just too easy!
Plus, it feels incredibly satisfying every time I pull out my jar of ageing vanilla extract, which I use in a number of different recipes including…
RECIPES THAT CALL FOR VANILLA
Bourbon Vanilla Chocolate Chip Cookies
Dark Chocolate-Drizzled Almond Biscotti
Spiced Oatmeal Cookie Ice Cream Sandwiches
SHOP THIS POST
Half-pint amber glass mason jars
PRINTABLE VANILLA EXTRACT INSTRUCTIONS
Homemade Vanilla Extract
Whether it's to save a bit of money, to enhance your baking experience, or to make a thoughtful handmade gift, there's something special about making homemade vanilla extract. Best of all, to make this easy vanilla extract recipe, all you need is a couple of simple ingredients!
Equipment
1 half-pint mason jar

paring knife
Ingredients  
5

whole vanilla beans

1

cup

80 proof alcohol

ie. vodka, bourbon, rum, brandy
Instructions 
Wash and sanitize the jar, boiling it for 10 minutes (optional)

Split the vanilla beans in half.

For beautiful flecks of vanilla bean in your extract, scrape the vanilla beans and add the seeds to the jar.

Cut the beans in half (so they'll fit in the jar) and add them to the jar.

Pour the alcohol over the beans, ensuring they're completely submerged (you may need to fiddle with them a bit or add a bit more alcohol).

Close up the jar and shake it up once a week to help speed a long the extraction process. Age for 6 months to a year. When it smells like vanilla instead of alcohol, it's ready to use!
Notes
The type of vanilla beans doesn't matter. Choose from Madagascar Bourbon, Tahitian and Mexican beans, Grade A or Grade B (Grade B beans are less expensive and meant for extracting, however)
It is important for the vanilla beans to be completely submerged. Beans that are exposed to air may get slimy, mould, and potentially ruin the extract.
The longer the extract is left to age, the better it will be.
To save money, you may use as little as 3 beans to one cup of alcohol. You may also use more for a richer, deeper flavour.
Once the vanilla has aged long enough, the beans can be kept in the alcohol so it can continue to develop flavour.
For a continuous supply of vanilla extract, top off the jar with more alcohol, although this may dilute the quality over time.
Old vanilla beans can be reused in a future extract, or dried and used to flavour sugar.
PIN IT FOR LATER
Love and gratitude,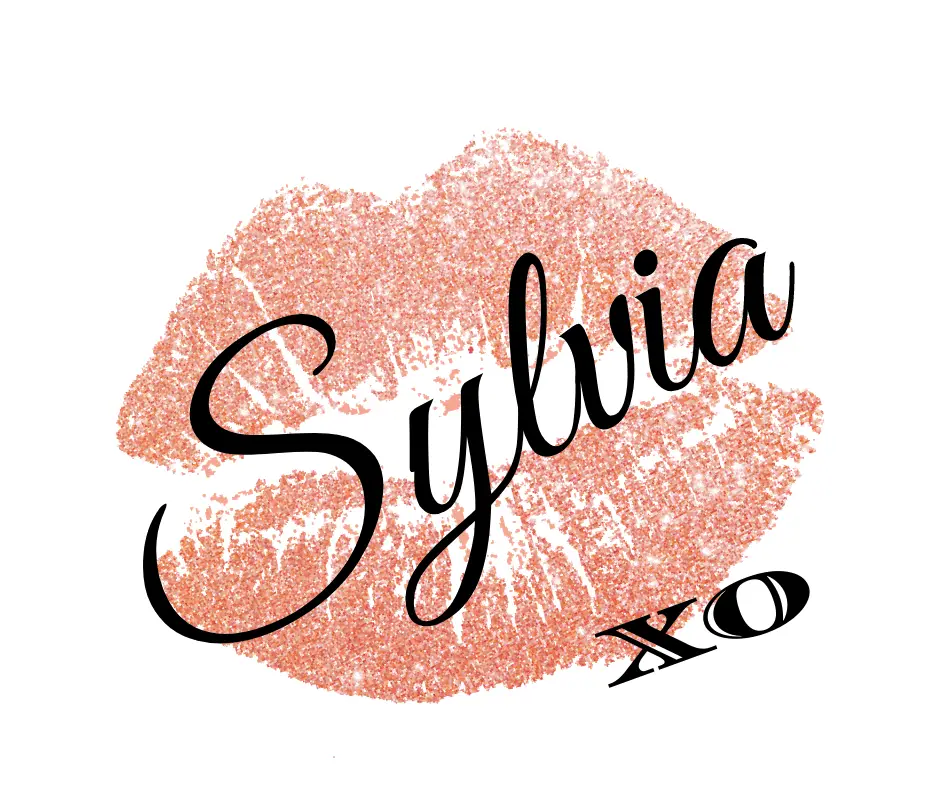 P.S. I read all of my comments, so if you have any questions, ask away! Additionally, if you try out this recipe and love it, I hope you'll come back to leave a rating and a review!