Whether you love them or hate them, there's no denying that escargots are a classic appetizer. If you're a fan of cheesy garlic slugs, then you'll want to learn how to make these quick and easy escargot appetizers!
LOVE AT FIRST SNAIL
The first time I ever had escargots, I was four.
I didn't understand that they were snails, but even if I had, I wouldn't have cared a stitch. They were cheesy, garlicky, chewy and delicious. What wasn't to love?
From that moment on escargots were my favourite appetizer, but they were hard to come by for a German-Canadian child. Because there was a paucity of snails in my youth, I elevated them up in my mind as something to be sought after.
There's something elegant about being served escargots, don't you think? After all, they're a delicacy!
EASY ESCARGOT RECIPES (A VIDEO)
If this is your first time visiting the kitchen, you're about to find out why I call my kitchen vintage… If you like my style, please consider subscribing to the Vintage Kitchen Vixen YouTube channel!
This article may contain affiliate links, meaning that if you choose to purchase something after clicking on one of the links in this post, I may earn a small commission at no additional cost to you.
TWO QUICK AND EASY ESCARGOT APPETIZERS
Surprise! I'm giving you not one, but two quick and easy escargot appetizer ideas today.
The first appetizer we will be focusing is escargots as you know them: served on an escargot plate. The second appetizer will be served in crispy shell cups.
Each are cheesy and garlicky, so be warned!
A NOTE BEFORE WE GET INTO THESE EASY ESCARGOT BITES
A few years ago I was at a birthday dinner at a nice restaurant. A friend ordered the escargot, but when it was served, I was amazed. The snails were in shells! Who would have thought it?
The dish came with special tongs (to fish out and hold the escargot) and a cocktail fork. It was my first encounter with escargots served in this manner, and to this very day, I still haven't had them this way.
Maybe that means I've never truly had snails, but I'm not concerned. The point is, if you were hoping to learn about cooking those snails, I can't help.
DO YOU WANT BUTTERY ESCARGOTS OR CHEESY ESGARGOTS?
Purists are going to be in an uproar over this recipe, so I'm going to be upfront here.
Traditionally, escargots are served swimming in garlic butter. In my kitchen, they're swimming in Swiss cheese. I say this time and time again: play by your own rules. All I aim to do is inspire, not dictate.
If you want rich, buttery snails, then throw my recipe out the window and melt a stick of butter and mince seven cloves of garlic, foregoing the cheese entirely. Okay? If you get offended by cheese then you're not in the right place!
Now that the warnings are out of the way, let's proceed!
THE PLATE
A plate of escargots does really well at a dinner party. It's an appetizer that guests aren't expecting, but will delight in.
Best of all, it's simple to make.
Fill the hollows with the snails and extra garlic butter if you have it. Some people enjoy a light sprinkling of cheese, like parmesan or gruyère, but some people are cheese fiends like Big Papa and I, in which case the cocktail fork will see a lot of melted cheese twirling action.
Escargots plates seem like the type of kitchenware that's the first to go when someone finishes reading Marie Kondo's The Life-Changing Magic of Tidying Up, but you can find other uses for them if you put your mind up to it.
You can use them to serve scallops, shrimp, stuffed mushrooms and other bite-sized appetizers. Some people even repurpose them as paint palettes!
QUICK AND EASY ESCARGOT SHELLS
I love Siljans' crispy shell cups for appetizers. They're the perfect bite and over the years have become my go-to when I'm preparing hors d'oeuvres for a crowd.
I love filling them with crème fraîche, smoked salmon and the fixings for a refreshing twist on smoked salmon bites.
For escargots, they get filled with the snails and cubed cheese, and then get popped in the oven for a broil. Yum! If you have access to an oven, these are a hit at potlucks! They won't last long, I promise you.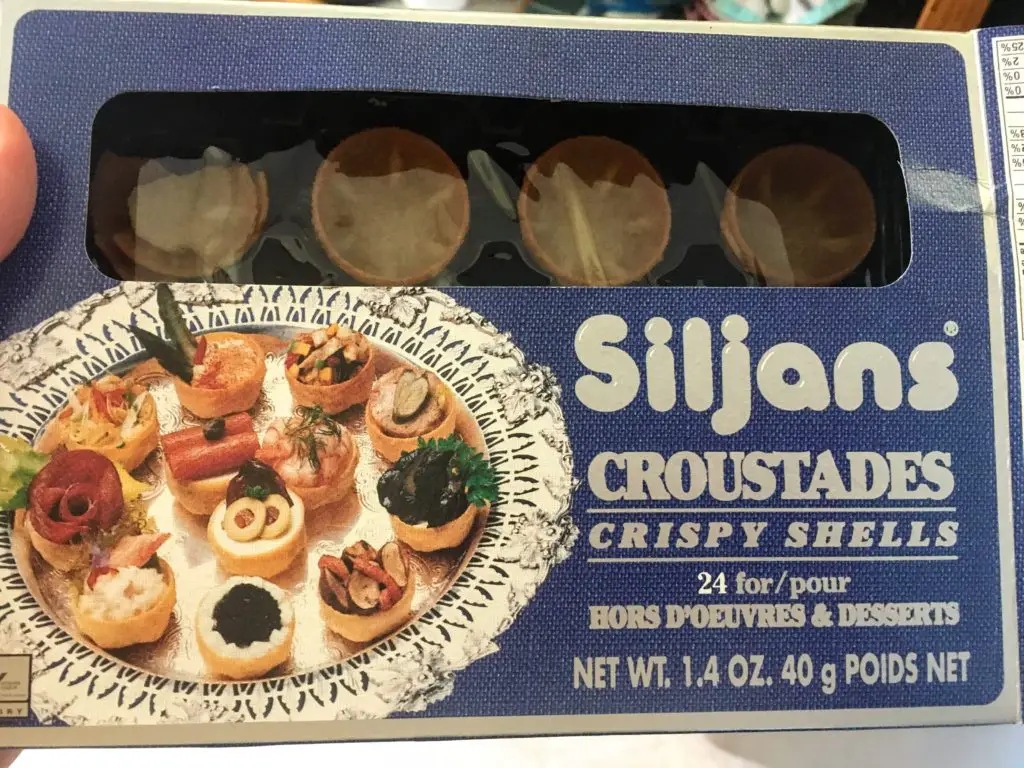 SHOP THIS POST
QUICK AND EASY ESCARGOT INGREDIENTS
Makes 4 plates or 24 crispy shells
2 garlic cloves, minced
1 tsp parsley or herbes de provence
1 tbsp butter (or more!)
splash of white wine
1 small pinch fleur de sel
ground pepper to taste
1 cup gruyére (1/4 cup per plate)
OR
24 cubes, gruyère
QUICK AND EASY ESCARGOT INGREDIENTS
Melt the butter in a pan and drain the can of escargots.
Sautée the garlic for 30 seconds, then add the escargots.
Season with the herbs, salt, pepper, and a splash of wine.
Fill the plate or the shells and add the cheese
Broil on high until the cheese is golden and bubbling
PRINTABLE RECIPE CARD FOR QUICK AND EASY ESCARGOT APPETIZERS
Quick and Easy Escargot Appetizers
This classic recipe is given a cheesy twist with the addition of gruyère. Serve it two different ways: on an escargot plate or in crispy shells.
Ingredients  
2

garlic cloves

minced

1

tsp

parsley or herbes de provence

1

tbsp

butter

or more!

splash of white wine

1

small pinch fleur de sel

ground pepper to taste

1

cup

gruyére

1/4 cup per plate

OR…

24

cubes

gruyère

package of crispy shell cups
Instructions 
Melt the butter in a pan and drain the can of escargots.

Sautée the garlic for 30 seconds, then add the escargots.

Season with the herbs, salt, pepper, and a splash of wine.

Fill the plate or the shells and add the cheese

Broil on high until the cheese is golden and bubbling
PIN IT FOR LATER
Love and gratitude,