German currywurst recently marked its 70th anniversary, and it's no small wonder why! This convenient and delicious street food can be found everywhere you go in Germany. No Oktoberfest party should be without it!
MEET MY SPECIAL GUEST!
If you caught the video for this post or for my spätzle post, then you've already met my mother. That's her in the picture below! Isn't she radiant? Her name is Petra and she's taught me everything I know about German food.
I didn't think I would need her expertise in making currywurst, because it's such a basic preparation, but as it turns out, I was wrong.
She's been enjoying German currywurst since the '70s and has curry ketchup in her blood. I was foolish to think I wasn't going to learn something from her!
When most people reach for the ketchup, relish and mustard to dress their sausages, she's the outlier with her currywurst.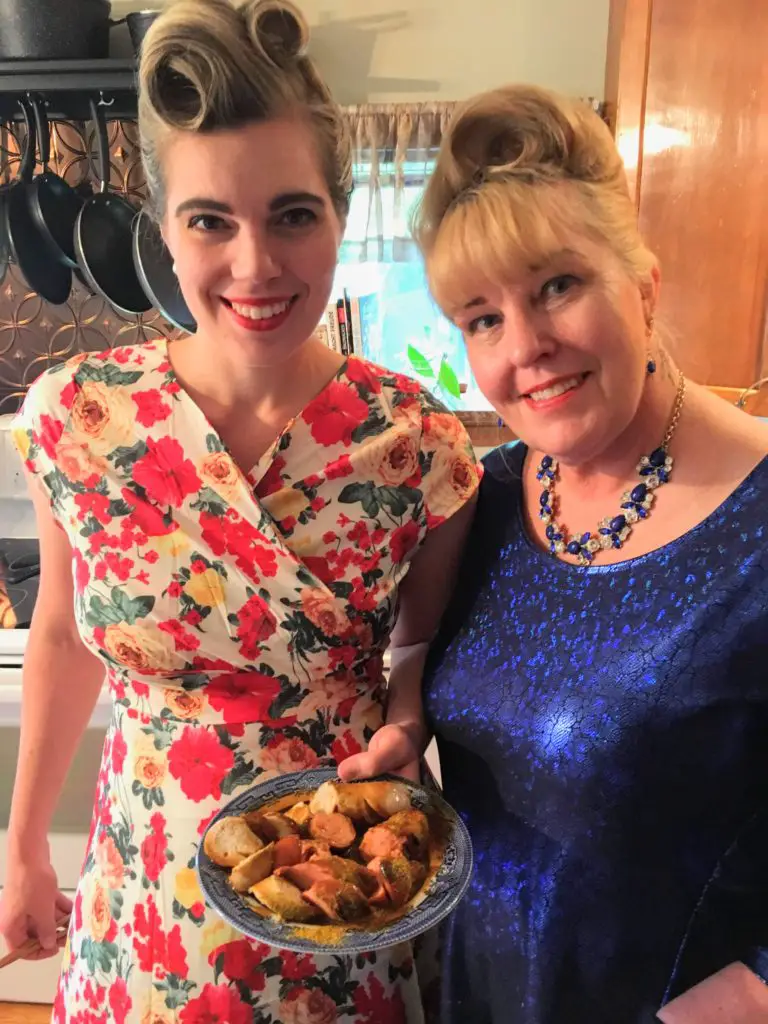 This post may contain affiliate links, which means I make a small commission at no cost to you.
THINGS YOU DIDN'T KNOW ABOUT GERMAN CURRYWURST
German currywurst has been around for seventy years and all thanks to a lady named Herta Hueuwer. It's kind of a big deal in Germany with 850 million currywurst's being consumed annually.
There's even a silver coin out there with currywurst on it to commemorate the birth of this classic street food! Do you think it's lurid, too?
Unlike some other labour-intensive dishes, like beef rouladen and spätzle, currywurst can be put together in no time at all. That's about what one would expect from street food, isn't it?
MY CURRYWURST STORY
I went to Germany for the first time in 2007 to spend part of my summer with my aunt, uncle and cousins. While I was there, I had my very first currywurst at a snack shack. It was an ordinary knackwurst covered in a curry sauce with vegetables in it, and it was absolutely delicious. I went back to Canada with this sole impression firmly fixed in my mind.
A few years later, however, at a local brewery's annual Oktoberfest shindig, I eagerly ordered my second currywurst anticipating the same experience. What I got back was a sausage with curry ketchup and curry powder. I couldn't believe it. Disgusted, I returned the currywurst and ranted about it for the rest of the afternoon.
LITTLE DID I KNOW…
A sausage with curry ketchup and curry powder? Humph! That wasn't currywurst! What did they know? Yes, my mom dressed most of her sausages that way, but that wasn't currywurst! Guess what? That's currywurst! I grew up with it and didn't even know it. My "first" German currywurst experience, while memorable, was not representative of the average German currywurst. Oops!
WHAT DO I NEED TO MAKE CURRYWURST?
The beauty of German currywurst is that you only need three things. If you've been paying attention, then you'll know that to make a currywurst you need sausages, curry ketchup and curry powder. Easy, right? Now let's explore each of these ingredients together…
THE BEST SAUSAGES FOR CURRYWURST
Currywurst wouldn't be currywurst without a sausage. You probably know this already, but wurst means sausage. It also means you might encounter some of the wurst puns you'll ever hear.
Puns aside, you can use pretty much any sausage you want to make currywurst, but some are better than others. My mom and I made ours with knackwurst and weisswurst because that's what we had on hand (have you seen my frugal kitchen rules post?), but if you want to be authentic, go with knackwurst or bratwurst.
CURRY KETCHUP
It was only after I shot the video with my mom that the idea of making my own curry sauce came to me. I'm all about making food from scratch and not only knowing what's going into my food but also controlling the quantity and quality of the ingredients.
Maybe I'll develop my very own curry sauce in the future, but for now, we're sticking with store-bought curry ketchup. My mom is never without a bottle in her fridge, and quite frankly, neither am I.
CURRY POWDER
What can I say about curry powder? Just grab your favourite yellow curry powder and sprinkle it on top.
Don't overthink it.
There are so many different curries out there that it makes my head spin, but currywurst asks for the most basic curry powder you can get your hands on.
HOW DO I MAKE GERMAN CURRYWURST?
The first step in making German currywurst is cooking the sausages! In the summer months, I grill everything in sight, including pizza, but once it starts cooling down I don't mind the added warmth in the kitchen. When grilling isn't an option, I'll take out my trusty cast iron skillet. Do you ever cook with cast iron?
SCORE THE SAUSAGES
Before you grill or fry up the sausages, please take the time to score them.
Usually, when I score sausages it's to release excess fat, but that's not why we're doing it. Well, maybe partially, but it's mostly so the curry ketchup sinks into the notches, giving you an extra taste of curry with every bite.
Make sure the scores are deep and on a forty-five-degree angle, but be careful not to cut through. To see a demonstration of a perfect score and what spacing should look like, check out the video below.
FRYING THE SAUSAGES
You've fried sausages before, right? If you haven't, that's okay, I have your back!
Add oil to your pan (we used bear fat that my mom rendered herself) and once it's hot, add the sausages. Every so often, turn them with a pair of kitchen tongs so they can get golden brown all over.
The scores will open up, releasing fat and a satisfying sizzling sound will fill your kitchen.
WHAT TO DO AFTER COOKING THE CURRYWURST
When your sausages are out of the pan (or off the grill), pick the one you want for yourself and squeeze out a generous pool of curry ketchup. Dust with curry powder and slice it up. I told you it was easy!
WHAT DO I SERVE CURRYWURST WITH?
GERMAN CURRYWURST DEMONSTRATION VIDEO
SHOP THIS POST
GERMAN CURRYWURST INGREDIENTS
8 People
8 knackwurst or bratwurst sausages
3 tbsp avocado oil or grape seed oil
1 cup curry ketchup (2 tbsp per sausage)
4 tsp curry powder (1/2 tsp per currywurst)
GERMAN CURRYWURST INSTRUCTIONS
Score the sausages.
Heat oil and pan fry until golden.
Squeeze on curry ketchup
Sprinkle on curry powder
Slice into rounds.
GERMAN CURRYWURST RECIPE CARD
German Currywurst
Currywurst is a celebrated street food in Germany that's often accompanied with fries. It's knackwurst or bratwurst covered in curry ketchup and curry power, which is then sliced. It's a different, yet tasty way to dress up sausages. An Oktoberfest party food favourite!
Ingredients  
8

knackwurst or bratwurst sausages

3

tbsp

avocado oil or grape seed oil

1

cup

curry ketchup

2 tbsp per sausage

4

tsp

curry powder

1/2 tsp per currywurst
Instructions 
Score the sausages.

Heat oil and pan fry until golden.

Squeeze on curry ketchup.

Sprinkle on curry powder.

Slice into rounds.
PIN IT FOR LATER
Love and gratitude,