Cracking open a coconut for the first time is quite the experience. If you have a coconut sitting on your kitchen counter that you don't know what to do with, let me walk you through it! 
"I GOT YOU A COCONUT"
This is not what I was expecting to hear when my husband came home from doing errands while I was filming.
Normally he surprises and delights me with chocolate, kombucha and cinnamon rolls from the local bakery, but a coconut? I wasn't expecting that one.
What was I going to do with it? Throw it?
My little boy did. He thought it was a ball.
It can be intimidating, being presented with something new.
I mean, I adore coconut, but it's usually already flaked, shredded, or creamed, so I don't need to do anything.
If I want coconut water, I go to the store and buy it.
Instead, "I got you a coconut".
The coconut sat on my counter for a week, patiently waiting for me to come around.
I didn't want to give it the time of day, but then when I was filming my videos for perfect scrambled eggs and pesto tuna melts, my husband suggested I crack open the coconut on camera.
Well, okay. Here's what I did.
CRACKING OPEN A COCONUT: THE VIDEO
PREPARE THE TOOLS
When you're cracking open a coconut at home, you need a couple of things. For one, you'll need a screwdriver.
You will also need a hammer, a sieve, a bowl, and a length of cheesecloth to layer into the sieve.
Give the screwdriver and hammer a thorough cleaning with soap and water, because, well, when was the last time you've sanitized your hand tools?
LOCATE THE EYES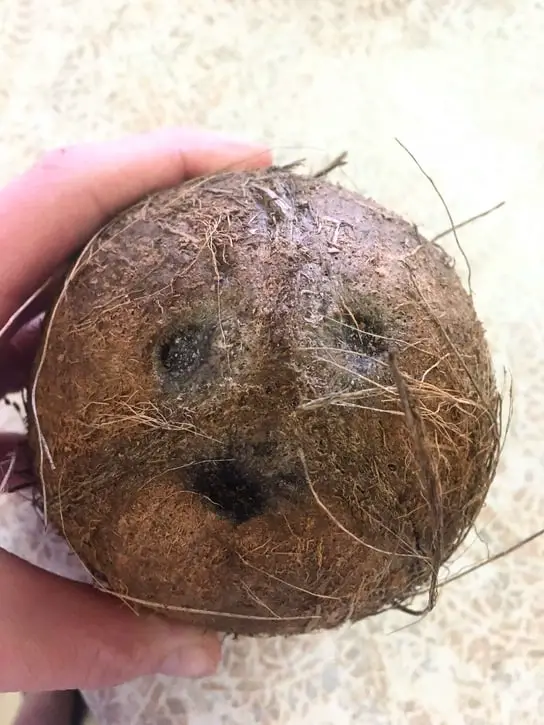 Coconut eyes are iconic.
They're located at the top of the fruit and are the key to cracking open a coconut.
Nestle the screwdriver into each eye, carefully tapping it with the hammer until you pierce through.
Twist out the screwdriver and wipe it down before moving on to the next eye.
When the eyes are open, hold the coconut over the cheesecloth-lined sieve and drain it.
You might need to give the coconut a few shakes to ensure all the water is out.
CRACKING OPEN THE COCONUT
Now that the eyes are pierced, it's time to crack open the coconut.
To do this, tap the hammer around the coconut.
When I first set about this task, I had the coconut on the counter, but I wasn't getting anywhere with it until I hammered on the coconut while it was in my hand.
I was being careful, believe me! The last thing I wanted to do (or want you to do, for that matter), was injure myself.
I have since learned of a different method which I will be trying next time.
It's a simple matter of popping the empty coconut in a 400ºF oven for 10 minutes, or until a hairline crack appears.
The goal when you start out hammering, by the way, is to get a hairline crack to form around the circumference. From there, crack open the coconut with the hammer.
After it's open, you can wrap up the halves in a tea towel and break them up into smaller pieces.
Otherwise, the next job involves prying the shell from the skin which you can do with the aid of a butter knife.
Once this is done, the coconut is ready!
The remaining brown skin is completely edible, but if you want to have pure white coconut, peel it off.
WHAT TO DO WITH THE COCONUT
Now that the coconut is cracked open, what to do with it?
It turns out there are all kinds of things you can do!
With my gifted coconut, my husband and I winded up making a pineapple coconut curry and a batch of shredded coconut cookies.
In the last year or two though, I've been noticing frozen coconut chunks sold in the frozen fruit section that can be used to make smoothies.
As someone who loves tropical smoothies, freezing coconut chunks sounds like it's right up my alley.
DEHYDRATE IT
While it does take some work to render a fresh coconut into the products we know and love, be it shredded or flaked coconut, coconut milk, or coconut flour, it's well worth it, I think.
Coconut flour is pretty safe, but unless you're intentional about what you purchase, shredded and flaked coconut often contain sulphites, propylene glycol, and sugar.
These additives extend the shelf-life, so higher quality products cost more as a result.
To make your shredded coconut, all you have to do is grate up the coconut (peel or no peel) and dehydrate it.
TURN IT INTO MILK
As much as I love coconut milk, the ingredients label usually reveals additives like stabilizers, emulsifiers and antioxidants.
Most of the time, it's not even the whole coconut that you're getting, but extracts.
In the last month, I actually started making my own coconut milk using creamed coconut, which is pure coconut meat.
To make coconut milk from fresh coconut, it's a matter of blending a cup of shredded coconut meat with two cups of hot water for a couple of minutes.
Using a nut milk bag, this mixture gets strained and squeezed out.
The leftover pulp can be used in baking recipes or it can be dehydrated and milled into coconut flour. Neat, right?
THANK YOU FOR POPPING BY THE KITCHEN!
Now that I know how to crack open a coconut, there's so much I want to experiment with!
While it does take a bit of elbow grease, kitchen capers are my kind of thing. I love making food from scratch, and while I probably won't reach for a fresh coconut every time I need shredded coconut for a recipe, I like knowing it can be a fun DIY kitchen project on a rainy day.
What about you? Have you ever brought home a coconut from the store? What did you do with it? I'd love to hear your own stories and any tips and tricks you might have.
I hope you'll stop and say hi in the comments below!
PIN IT FOR LATER
Love and gratitude,